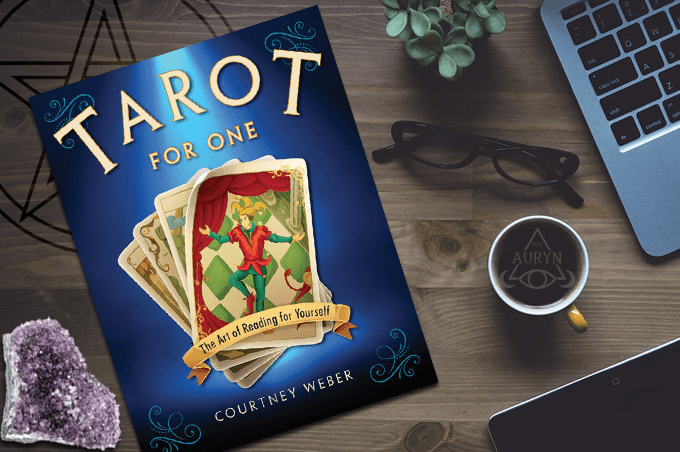 As a professional tarot reader I'm constantly reading books on the tarot and trying to expand and master my craft. That being said, I absolutely hate reading tarot for myself. I find it hard to get out of my own way and end up seeing what I want to see and ignoring what I don't want to believe, instead of what I need to see. This is a common occurrence with tarot readers, we tend to be able to read other people easier than ourselves because we're more invested in our own paths so there's a natural bias. Courtney Weber's Tarot For One: The Art of Reading for Yourself really helped me get past that.
As an occult book worm one of the things that I appreciated about this book was how cleanly the layout of the book was organized, which is not always the case with books on the tarot. The book is illustrated with very clear line drawings of the Rider-Waite-Smith cards which makes it easy to observe what she's discussing when talking about certain imagery within the cards.
Throughout the book she provides a more intuitive method to explore the cards that is seldom seen in books on the tarot adding more emphasis on your personal connection to the cards than their traditional meanings. On the subject of reading tarot for yourself there are very few books and fewer that are actually good. Tarot For One definitely stands out in this area. Courtney's writing style is clear and easy to follow, providing a great intro for those completely new to the tarot while bringing enough to the table for the seasoned reader to bring their readings to the next level whether they're reading for themselves or using the concepts and techniques to read for others.
Full of anecdotes and examples, she clearly illustrates and translates her theory into practice for the reader. One of my favorite parts of the book was her touching upon one of the hardest aspects of a tarot reading, which is how to discern whether the cards are talking about you or someone else if that psychic insight isn't popping out right away. While I will continue to get readings from others as I find other's insight to be extremely valuable, I definitely feel that reading for myself has strengthened after reading this book.
Ways To Support My Work: