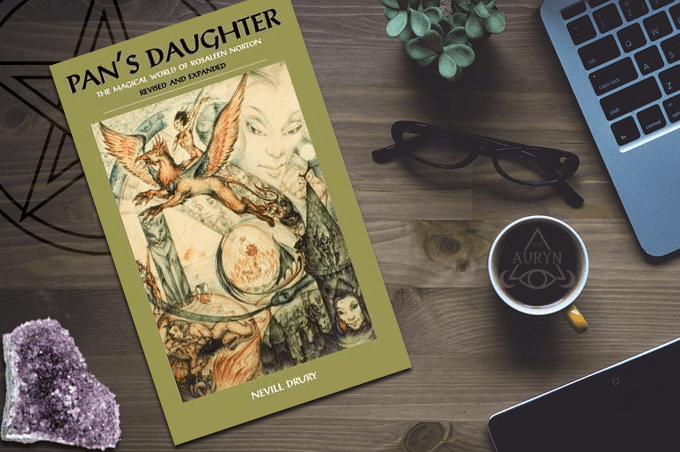 Rosaleen Norton is one of the most fascinating and overlooked witches in occult history, and a personal favorite. Thankfully there's Pan's Daughter: The Magical World of Rosaleen Norton by Nevill Drury. This particular edition is revised and expanded from the original printing of the book. When I saw this book at a local occult shop I had to buy it immediately. This book is the closest to an official biography that anyone can get and Nevill draws on many of his notes from personal interviews and correspondences which he quotes.
Rosaleen was a witch who was well known in Australia during the '50s and '60s as "the Witch of Kings Cross" and Roie by her friends. She was a devotee of the Great God Pan and worked a lot with Lucifer, Lilith and Hecate. A gifted artist, her art was as controversial as she was as a person constantly making tabloids as an "evil witch". She was definitely a witch in every sense of the word – a strong and brilliant woman who was unapologetic about her sexuality, her art, and her magick.
With over 300 pages, the book not only covers her life and romance with her sex-ritual partner and lover, the poet Gavin Greenlees, but also gives you a fairly decent understanding of her beliefs and magickal practices as well as information about her coven and how they operated. She was also very interested in ecstatic practices, working with familiar spirits, tantric sex magick, and out-of-body experiences to go join the Witch's Sabbath. The book is full of photographs of her and much of her mind-blowing art based on trance experiences or astral journeys. Sadly, all of the art is printed in black and white in the book. This is definitely one of my favorite biographies and one I wish more people would read.
---
Connect With Me


Website | Tarot Readings | Facebook | Twitter | Instagram | Tumblr | Mailing List