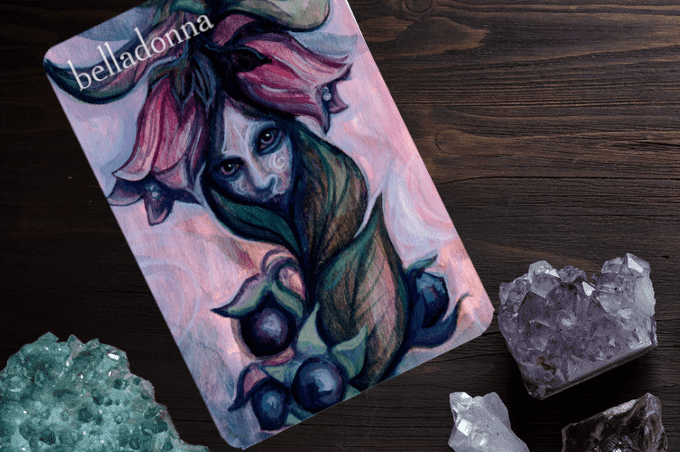 I'm a huge fan of Laura Tempest Zakroff's work; both her writing and her artwork. So I was thrilled when I got my hands on her Liminal Spirits Oracle which is a marriage of both. I tend to not be an oracle fan as tarot tends to be my tool of choice for divination – but this deck is absolutely phenomenal. Let's talk about the quality first. The deck is printed on good card stock and has a nice glossy finish which places it in the right area of being both usable, easy to shuffle, and durable. It comes in a nice quality magnetic box and a fully colored and illustrated guide to the cards full of Tempest's insights and interpretations of the cards.
What is particularly great about Tempest being both the author and the artist of the Liminal Spirits Oracle is that you know her vision for the cards was executed exactly as she intended and it truly shows. The artwork of each card is vivid, entrancing, and completely magickal and every single card has a very unique energy, feel, and vibe to the card. Each feels not only like a spirit, but a portal into various psychic streams and currents of energy.
The cards of the Liminal Spirits Oracle are grouped in nine "suits" or "groups" of categories:
The Outliers (Gateway, Mushroom)

RITES (Roots, Inspiration, Time, Environment, Star)

Places (Ocean, Forest, Desert, Cave, Burial Ground)

Trees (Oak, Cedar, Walnut, Birch, Ash)

Herbs (Rue, Mugwort, Belladonna, Mandrake, Monkshood)

Scale, Slither & Swim (Snake, Toad, Salamander, Fish, Snail)

Wings (Owl, Corvid, Peacock, Moth, Honey Bee)

Fur Fauna (Fox, Deer, Cat, Hare, Goat)

Artifacts (Crystal, Metal, Clay, Fiber, Bone)
This diverse grouping provides an amazing palette to help you paint a picture of what is going on in your divination, meditation, or spellcraft. Each card was chosen as a spirit that embodies classical connections to witchcraft and can be worked with as individual spirits through these cards to help you gain insights and wisdom on your path of witchery as you build a relationship with each spirit embodied in the cards. As I've stated, I tend to not be a fan of oracle decks but I am absolutely in love with the Liminal Spirits Oracle deck and it's one of the few oracle decks that I actually use. I rarely find any deck of cards where there isn't at least one card that I dislike the art of, but this is definitely one of those decks where every single card within it is a gem.
---
Ways To Support My Work: