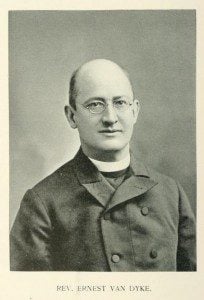 Rev. Ernest Van Dyke, St. Aloysius Church, Detroit
Father Ernest Van Dyke, son of James A. and Elizabeth (Desnoyers), was born in Detroit, Mich., January 29, 1845. Father Van Dyke acquired a substantial education in the parochial schools of Detroit, and in 1859 entered St. John (Jesuit) College at Fordham, N.Y. In June, 1864, he was graduated with the highest honors of the college, and was awarded the medal of the year. In the fall of 1864 Father Van Dyke entered the American Seminary at Rome, Italy, where he took up the study of theology, and was graduated therefrom in 1868, and ordained to the priesthood on March 25 of that year.
Upon his return to America he was assigned as rector of St. Mary's Church at Adrian, Mich., where he was instrumental in the erection of a new church; in 1872 he was appointed to take charge of the cathedral church at Detroit, the edifice now known as the Jesuit church of SS. Peter and Paul. In 1873, Bishop Borgess, of the Diocese of Detroit, purchased the present St. Aloysius Church, then known as the Westminster Presbyterian Church, and made it his pro-cathedral. Father Van Dyke was at once appointed its pastor, and has ever since been in charge of its affairs. He is a forceful and eloquent speaker, an indefatigable worker, and is gifted with sincere devotion to his priestly mission. Personally he is kind and charitable, and is held in high esteem by all with whom he comes in contact. His church has a membership of two hundred and fifty families.
Robert B. Ross and George B. Catlin, Landmarks of Detroit (Detroit: Evening News Association, 1898), 847. 
Note: Father Van Dyke served at St. Aloysius until his death in 1918.