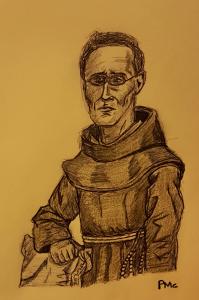 Between 1873 and 1879, nearly eight thousand people died during Memphis's Yellow Fever epidemics. While ministering to the sick, some thirty-four physicians lost their lives, along with twenty-four police officers and twenty-four firefighters, two dozen Catholic priests, and fifty women religious. In Memphis's Calvary Cemetery there stands a monument to the priests, but none to the Sisters. Although a monument in Washington, D.C., honors nuns who served in Civil War hospitals, more Sisters died in Memphis in those six years than during the entire war.
By the 1870's, Memphis had a sizeable Catholic community, predominantly Irish immigrants working on the railroads and waterfront. Nearly thirty priests and five communities of Sisters (Dominican, Josephite, Good Shepherd, Franciscan and Sisters of Charity) ran parishes, schools and orphanages. In 1871, the De La Salle Christian Brothers founded the college now called Christian Brothers University.
Initially, Memphis's future appeared bright, the city having recovered fairly well from the Civil War. But it was also one of America's dirtiest cities. An observer described its swampy and unsanitary conditions as "perhaps no better than those of the poorest medieval borough." One scholar called it "the ideal place for an outbreak of yellow fever. "
When the first epidemic broke out in August 1873, twenty-five thousand people (about half the population) fled Memphis. In three months, over two thousand died. Father Denis Quinn, an Irish-born priest who served throughout the epidemics and wrote about it, noted that his own parish alone lost eight hundred parishioners that year. Five priests and twenty Sisters died while making sick calls.
In a desperate attempt to ward off fever, some residents doused themselves with cologne and rosewater, others wore bags of onions around their necks, and others wore masks. Still, there was some humor on hand. One alleged corpse opened his eyes during the last rites ceremony and said to the priest, "What the hell are you doing?" Father Quinn observed:
Side by side, you would see undaunted heroism and vile cowardice; miserly penury and open-hearted philanthropy. Ladies and gentlemen occupying high positions in life might be seen going from house to house aiding the poor and suffering, while… a dying wife assured me that her husband ran away and left her and two children in a dying condition.
"If the Fever of '73 were sometimes called a plague," Quinn added, "that of '78 was a veritable scourge," which authorities initially denied. On August 13, the first victim, restaurant owner Kate Bionda, died. Over five thousand followed through November.  "Great God!," Father Quinn wrote, "I remember well the panic.. You might walk or ride several miles on Main Street, the principal thoroughfare, and not meet five persons."
 Members of every church and synagogue helped out, but priests and nuns were hit especially hard. Only three Memphis priests survived this second outbreak. At one funeral Mass, Bishop Patrick Feehan presided over the coffins of twelve clerics. Tragedy pervaded the city. Quinn related one of many sad incidents:
In response to a sick call, Father Cary, a Dominican priest, called at the residence of… [a]  young lady. After hearing her confession and administering Extreme-Unction, he promised to return with the Holy Viaticum the following morning. The good Priest was unable to keep this engagement, for he took the Fever from this house and was dead himself before the girl whom he had so recently prepared.
For Quinn,  the hospital was "mortifying humanity by the wholesale." He remembered a patient's dying words: "Father, for the love of Jesus Christ, give me the Holy Sacrament before I die. If you do, I will pray for you… in Heaven."  
Father William Walsh established refugee camps outside the city. Quinn noted he "assumed martial airs and energy during these dreadful times." Petitioning the bishops and laity nationwide, he raised $40,000, which he divided among the sick and poor.   
"The most dreadful sense of horror," Quinn observed, "was the fact that in a short time, those ghastly sights would fail to inspire terror." Not all who survived escaped without scars. Young Father Patrick O'Brien, who survived the plague, suffered a nervous breakdown from what he experienced, and was confined to an insane asylum in St. Louis.
The Sisters, whom Quinn called "a band of Catholic warriors," suffered the most: "Few ladies of the world could go to a ball or a marriage feast with more breathless enthusiasm than these saintly creatures went to face death."  One Sister stood out:
Men of every persuasion regarded her as a veritable Saint. She consoled broken-hearted widows; fed and sheltered abandoned orphans; she not only sat with the sick and dying, but saw that they were decently shrouded, encoffined and buried. There is no history of this little Sister's heroism; yet she had bravery enough to honor her entire sex.
A minister noted for his anti-Catholic lectures was nursed on his deathbed by nuns.
The Sisters never even received a vote of thanks from the city. No monument honors them. Both priest and nun deserve to be remembered and honored for giving their all during one of the nation's worst urban blights ever. It has been too long forgotten. Today Catholics need to own their history, both high and low points. This is one of the high points.   
(*The above drawing of Father Wiewer is by Pat McNamara.)