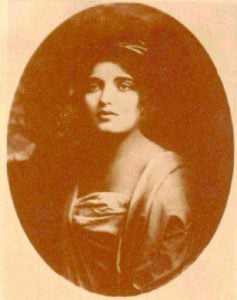 Born in Kansas City on October 1, 1890, Alice Joyce was one of the premier stars of the silent movie era. As a teen she had worked as a model before breaking into the movies about 1910 with the film The Engineer's Sweetheart. She played in several Westerns during the early years, particularly as a Native American. By 1913, she was voted the most popular motion picture actress. The following year she married co-star Tom Moore, with whom she had several children.
The Kalem Company released the "Alice Joyce Series" in 1914. She remained a major star throughout the silent era, even while taking time off to raise her children. In 1929, her first talkie, The Squall, was released. Alice Joyce remained active in films through the 1930's. She died on October 5, 1955. Her funeral Mass was held at Our Lady of Peace Church, Sepulveda, California, and she was buried in San Fernando Mission Cemetery in the San Fernando Valley of Los Angeles. Her official fan website has this to say about her:
Serene is the adjective most writers choose to describe the lovely Alice Joyce. With a serious and usually placid demeanor, Joyce was an unusual star in the 1920s. She started in films in 1910, and swiftly advanced in popularity, dropped out of films in the mid teens and again in the early 20s to care for her children, then returned to the screen in more important films than ever. After having been a contract player in routine programmers in the teens, she now freelanced, and was in demand whenever an actress of particular distinction and dignity was required. Unlike most stars, she was willing the play the mother of adult children, roles which were older than her real years. She nabbed some plum roles in great films in the 20s, including two memorable proto-feminist parts in

Dancing Mothers

(1926) and

The Homemaker

(1925). Thoughout her career she was referred to as "the Madonna of the Screen.