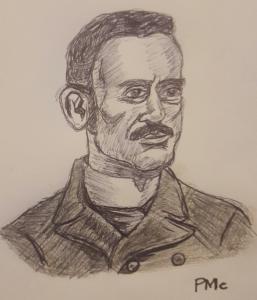 This day in 1889 marks the birth of the National Black Catholic Congress. On January 2, 1889, over one hundred African American laymen, led by Daniel A. Rudd (1854-1933), assembled in Washington, D.C., as the First Colored Catholic Congress. Born a slave in Kentucky, Rudd edited The American Catholic Tribune, the first Black Catholic newspaper of any kind. The congress met five times between 1889 and 1894.  What did the Congresses do?
They advocated Catholic schools for African American children.

They appealed for labor unions to practice inclusivity.

They called for better housing.

They endorsed the temperance movement.

They urged the Church to take a stronger lead in the movement for racial justice during the Jim Crow era.
While the first Black Catholic Congresses didn't see all of their goals met, nevertheless the very fact that they did meet at all was a milestone event, evidencing the growth of a Black Catholic consciousness in the United States. It also wasn't afraid to address racism within the Church. Dr. William S. Lofton, a delegate from Washington, D.C., declared:
No Church is a worthy temple of God where a place is marked off for Colored people. It is a shame and a scandal in a temple of God, when a man, on account of his color, is driven to an obscure corner or to a loft.
Another issue addressed included the exclusion of Blacks from Catholic higher education. Mr. C.H. Butler, a Washington layman, addressed the Congress on this issue:
I am prepared to say without fear of contradiction that a mighty host of Colored Catholics are being lost yearly to the Church because of the non-existence of Catholic schools… especially for Colored youth… There is not a single Catholic school in the city of Washington whose doors are open to the Colored youth after they reach the age of twelve years.   
In general African Americans, Butler concluded, were "unjustly discriminated against."
This frankness may have been why the Congresses fell into disuse for many years. Many bishops, clergy and religious were simply afraid to address racism. This was a scandal within the American Church, and it was the Black Catholic laity who took the reins and addressed it fully for the first time. And this during the era of Jim Crow, no less!
In September 1984, the nation's African American bishops issued a pastoral letter on evangelization titled "What We Have Seen and Heard." Three years later, the Congress was revived in as the National Black Catholic Congress. One African American bishop said, "I never thought I'd live to see this day." During the Congress, Franciscan Sister Francesca Thompson of Fordham University delivered a rousing speech in which she declared:
I define Black Power as Black freedom, Black self-determination, and Black pride, wherein, we as a people, no longer view ourselves as without human dignity but men and women whole… human beings with a God-given ability to carve out their own destiny.
Since then, the NBCC has met regularly. Its goal is to enrich and improve the lives of African American Catholics through youth outreach, leadership training programs, and education. Then and now, they issue what one historian terms a "call to justice," and they remind their brothers and sisters of the word "Catholic's" true meaning: "universal."
(*The drawing of Daniel Rudd is by Pat McNamara.)