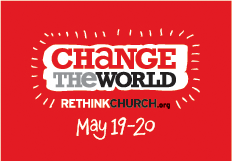 Change the world. It's such an undifferentiated, macroscopic goal — the main theme of every high school valedictorian's speech. But how do you do it? We get the impression from our news cycles and history books that the way to change the world is to get famous and important so that you can make big decisions or give inspiring speeches that cause people to give millions of dollars. Changing the world in our time has become synonymous with becoming a celebrity. But the United Methodist Church has been taking a different approach as part of our "Rethink Church" campaign. This Saturday May 19th, several hundred thousand United Methodists around the world will be working together in simple, unglamorous ways to repair houses in the local community, gather food for hungry people, raise money for mosquito nets to stop malaria, stock items for our disaster relief teams, and dozens of other projects that pooled together actually have the potential to change the world.
The idea started with a book that United Methodist pastor Mike Slaughter wrote called Change the World: Recovering the Message and Mission of Jesus. Here's a summary Slaughter wrote to explain where he's coming from:
Clearly, something is not working. Despite the church's place of prominence in American culture and the ubiquity of the church in every American town, misconceptions about the faith of Jesus Christ run rampant today. Christians are known more for exclusivity than for love, more for pot lucks than for solving world hunger. It's time for churches to get over the cruise-ship mentality of being a program-provider, and reconnect with the true message and mission of Jesus: to bring good news to the poor, release to the captives, and freedom to the oppressed. The church is called to be a mission outpost, living out Christ's ideals in today's world.
At Burke United Methodist Church this Saturday, we are planning to put together 20,000 dehydrated meals, 100 health kits, 200 school kits, and 100 birthing kits to send to people in need all over the world. We will also have a blood drive, a three-point contest to raise money for mosquito nets to stop malaria, as well as food, music, a number of children's activities, and, of course, a bounce house! My hope as a pastor is that this event would be more than just a way for to accrue community service hours. Every time we have an opportunity to serve others, the Holy Spirit can use it to transform us into more imaginatively generous people. That is what I hope your experience will be if you come to change the world at Burke United Methodist Church this weekend.