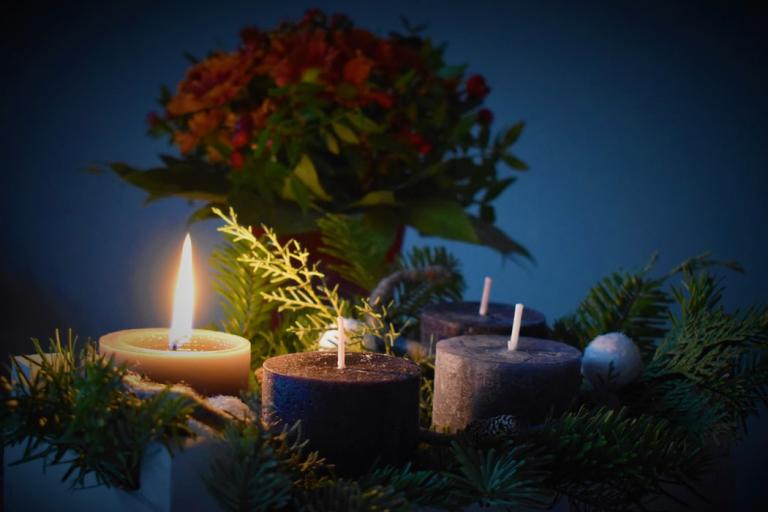 I grew up (this has come up before) in the United Methodism of the 1970s, where our worship in the weeks before Christmas focused on the cozy – candles, carols, mangers, etc., etc. I have a faint memory of Advent wreaths and of being told I was supposed to prepare for something. My mother, the church choir director, organized many holiday programs, and through them I learned not only all the traditional Christmas carols, but songs traditionally associated with Advent like "O Come, O Come, Emmanuel." I may be the only modern adolescent whose regular reading material included the Oxford Book of Carols, and that began to broaden my horizons.
Then in 1989 what I still insist on calling the "new" United Methodist Hymnal came out. It had an actual Advent section! "People, Look East" was in it! I learned "Toda la tierra!" We could sing about something else besides shepherds, mangers, and wise men in the weeks before Christmas!
Still, nothing prepared me for what happened a few years later in the early 1990s. I was attending seminary by then, and my seminary started a weekly Communion service at noon on Wednesdays in what we then called our "liturgical" chapel. (Yes, all orders of worship are liturgy, the work of the people, but what we meant by that as earnest "new evangelicals" was that it had movable furniture, and a kneeler, and icons, and a large font. It is now named in honor of Richard Allen, which makes me all kinds of happy, and if you're nosy, you can see it on p. 12 of this PDF "prayer walk" brochure).
I had attended the noon service all fall, but nothing prepared me for the First Sunday of Advent. I walked into a room almost completely dark except for a single candle. All the songs were songs of judgment and longing. I think we sang "Lo, He Comes With Clouds Descending" to that powerful and amazing tune HELMSLEY, which actually sounds like you're deeply wailing when you sing "deeply wailing." The preacher talked about John the Baptist. We took communion in the almost-dark. It was as far from cosy Christmas as you can imagine. It changed me forever.
Celebrating Advent as a season of loss and longing for the King who is to come but, darn it, does not seem to be here yet is amazing and important and helpful and necessary, for all the reasons which Andrew McGowan articulated so well today in the Washington Post. And yet, over the years, especially as I journeyed into Anglicanism – which has a number of profound and beautiful traditions surrounding Advent – there was a tinge of "Advent policing" in how I articulated all of my turning off Christmas music on the radio and keeping my Baby Jesuses out of their mangers until the right moment (I collect creches. I have a lot of Baby Jesuses. My daughter calls them "Baby Jesi." They tend to hang out in a drawer during Advent, which bothers me theologically, but where else am I going to put them?)
Then last Advent, two things happened. I rewatched "It's A Wonderful Life" for the first time in a long time by accident – which, among all the other things it is, is an Advent movie for two hours of its two hour and fifteen minute running time. The kingdom of justice and peace that George Bailey wants, for two hours, just does not seem to be here yet.
Then, almost all of my family members ended up getting roles in a community theater production of a Christmas "showcase," reenacting scenes from every cheesy Christmas movie you can think of (including National Lampoon's Christmas Vacation – I am not kidding) and singing every cheesy Christmas song you can think of. I planned to hate it, but I went to see it. They had cast my husband as George Bailey (and also, in the Christmas Carol excerpts, as Scrooge – I told him that combining the two just about hit his personality on the nose) and, since they were re-enacting the end of the movie, they asked him to walk on to the stage at the exact moment of George Bailey's most terrified Advent, poised on that snowy bridge, calling out for Clarence, for anyone, to save him from Potterville.
And then, because they were re-enacting the end of the movie, they moved to George Bailey's Christmas. And the kingdom of justice and peace came, and once again I was changed forever.
Three and a half weeks later, my father died.
This year, my celebration of the liturgical seasons has been, one could charitably say, scrambled. My kids and I have been in so many Christmas programs that I have spent half my time either at Methodist churches or on community theater stages singing "Joy to the World." I'll be in a production of A Christmas Carol tomorrow night. I have been listening to Christmas music since Thanksgiving and am particularly obsessed with "Have Yourself a Merry Little Christmas" and "We Need a Little Christmas." I joined a Facebook group called "Winter Blessed and Christmas Obsessed" so I could look at other people's Christmas lights. I haven't put up a tree, because I have two now, and one of them is Dad's, and I just keep staring at the Christmas boxes and walking away from them. I even missed my favorite collect of the whole year from the Book of Common Prayer, always said on the First Sunday of Advent:
"Almighty God, give us grace to cast away the works of darkness, and put on the armor of light, now in the time of this mortal life in which your Son Jesus Christ came to visit us in great humility; that in the last day, when he shall come again in his glorious majesty to judge both the living and the dead, we may rise to the life immortal; through him who lives and reigns with you and the Holy Spirit, one God, now and for ever. Amen."
One of the carols which my mother and father always used to sing as part of a quartet with my aunt and uncle was "Lo, How a Rose E'er Blooming." When that "new" United Methodist hymnal came out, it put it in the Advent section, and I've always thought of it as an Advent carol. Just this year I realized that the Episcopal hymnal puts it in the Christmas section. You could argue either way: there are prophecies of longing, and there is a holy birth. All I know is that this year, more than ever, I need that third verse – which wasn't even part of the original carol, but was added in the nineteenth century:
O Flower, whose fragrance tender
With sweetness fills the air,
Dispel with glorious splendour
The darkness everywhere;
True man, yet very God,
From Sin and death now save us,
And share our every load.
Merry Christmas, Mr. Potter. Or should I say: Merry Advent?
Image: unsplash