The Feast of All Saints, celebrated on Nov. 1, is rarely acknowledged in evangelical circles. Our non-denominational church, which follows the liturgical calendar, observed it this past Sunday. "The Festival of All Saints," our church bulletin explained, "celebrates the faithful men and women, known and unknown, past and present, whose lives have been marked by the love and grace of God. It is an opportunity for us, as a church, to thank God for them and to remember the roles they have played in bringing God's kingdom into our lives and into this world." We were the first same-sex couple married at our church, and we write a blog about faith that a few people read. So it is with gratitude that, today, we think of all the LGBTQ saints, known and unknown, who paved the way for us.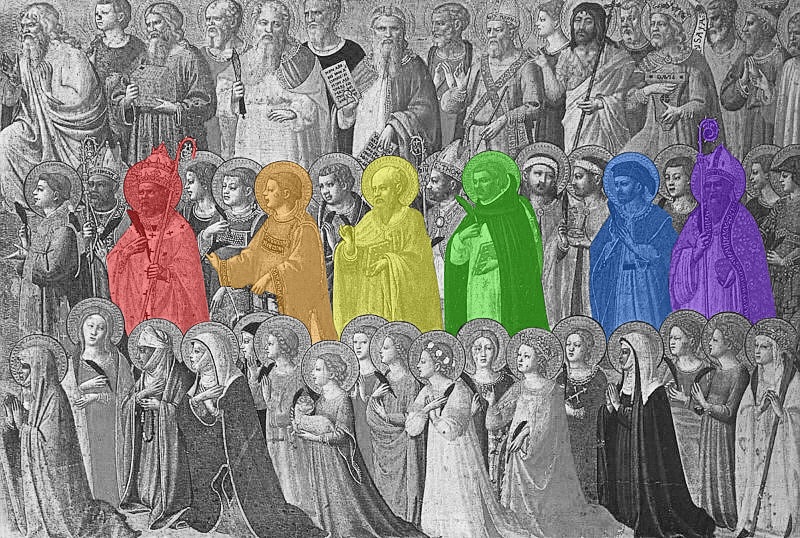 We remember this day that the community of saints is built on relationships that transcend time and generations. And in that spirit, we thank God for the life of Rev. Dr. William R. Johnson, the first openly gay person ordained to the ministry in a mainline Christian denomination. Johnson, raised in a conservative Christian family in Texas, came of age in the 1960s, but that doesn't mean that the revolutionary spirit of the era made accepting himself easy. A sermon he preached in 1971, as he awaited the ruling of an Ecclesiastical Council of the United Church of Christ that would determine if he could be ordained, speaks of his journey:
When I was in high school and college, I used to dream of a day when I could openly be who I am in every dimension of my personhood, including my sexual self. I must confess to you that in those days I felt it would be an impossible thing for me to take the risks involved in affirming myself and seeking to live a life of honesty and openness…

The struggle to embrace ourselves is the most difficult struggle of life and it is difficult for all persons. It is not an easy thing for any of us to stand naked before the mirror of our own selves and embrace the person that we are, complete with our shortcomings and abilities, our hopes and our fears. It is not an easy thing and it might even seem to you an impossible thing.

I struggled for many years with the fact of my own identity. There was no small amount of pain, and many times I ran away from the encounter I was having with myself. I was told more than once that I could not be gay and be a minister. I spent much time and money on psychotherapy, attempting to change…
Rev. Johnson, who received his Master of Divinity from the Pacific School of Religion, found the courage to live as the person God made him during his last year of seminary. At a forum convened to discuss the topic of homosexuality and the church, in front of 400 students, faculty, and church leaders, he stood up and came out. What he called "a statement of faith and affirmation," led to threats of expulsion from the seminary. He faced, in 1970, the fear that LGBTQ students at conservative institutions continue to face today. But as he explains, two realities had sunk in by then that made self-integration possible—that allowed him to lean forward and embrace the image in the mirror of his own self:
I had come to realize that I had allowed many people through the years to fully know me as I am, in every dimension of my personhood. And every one of those people had remained in relationship with me. It became apparent that my inability to accept their acceptance of me grew out of the fact that I was still unable to accept my own self. The fact of the matter was that I had to embrace them and accept the embrace they offered me.

The second reality of my life was this: I had confidence that even while I was having difficulty loving myself, God's love for me was constant. It remained for me only to let go of my self concern and my very presumptuous self-sufficiency and say yes to the pilgrimage of faith. Let me tell you, you can believe with all your heart the words that Jesus said, "God loves this world so much that He gave His only Son, that everyone who has faith in Him may not die, but have eternal life."
Relationship—with God and with others—gave Rev. Johnson the courage to embrace faith. What a beautiful message that is; what a beautiful picture of church, of the risen body of Christ. It is a message that, as Johnson preached, brings forth life: "Many people spend their entire lives worrying about life after death and never really experience life after birth. But I'm going to tell you that I've been alive now for almost a year."
This past Sunday, our pastor reminded us that as a church we stand on the shoulders of saints, who stand on the shoulders of saints, who stand on the shoulders of saints. As LGBTQ Christians, we still have a ways to go before we are fully accepted by all as equal members of the body of Christ. But the privileges, freedoms, and love to which we are privy today, we owe to those who came before. As the church grows ever closer to the Kingdom promised in the Gospel, let us never forget that it is not by breaking ties and excommunication that God makes things new. As Rev. Johnson so wisely preached, it is only through relationship that we can truly experience the divine:
Through the experiences of my college and seminary years, I learned that there is no such thing as a comfortable ministry. Those who are comfortable in the service of men are in all probability not serving God very well. I grew to realize that the quality of a person's ministry is directly related to the quality of human relationships shared by the minister and those persons he seeks to change. If we are going to be ministers and we are called to the ministry by virtue of our discipleship to Christ our Lord, it is absolutely necessary that we be real, as Christ himself was real to those he sought to minister unto.

I became absolutely and unequivocally convinced that the spiritual reality of God is revealed to us in and through the personhood of Jesus of Nazareth. I know that there is a spiritual reality in life that is holy. I have experienced this Holy Spirit working in my life. The Holy Spirit does its most effective work whenever two or more persons are relating to one another with honesty, trust, and genuine caring. This is simply to say that if you want to experience the presence of the Holy Spirit in your life you must get involved with other people. In the security of your room or within the cell of your own ego, you will never experience the presence of the Holy Spirit. You might think that it is there, but sensing and experiencing are two different things. To experience the living, dynamic activity of the Holy Spirit in your life, you must be in relationship with another human being. You must be in a relationship of mutual honesty, trust, and caring.
The council that convened to discuss Rev. Johnson's ordination voted 62 to 34 to approve it. This was after a smaller judicatory committee had turned down his request 5 to 4. He went on to hold several offices in the UCC. In the early 1980s he became a caregiver for numerous friends who had contracted AIDS, and as the epidemic grew, he found a new calling to give his life to that ministry. He worked with HIV and AIDS patients until he retired after more than four decades of service.
For the life, faith, and example of Reverend William Johnson, and for all LGBTQ people who have sacrificed to bring forth healing in the church, Lord we are grateful.
---
Like our Facebook page and follow us on Twitter for more.
Original image, "The Forerunners of Christ with Saints and Martyrs" by Fra Angelico, in the public domain.