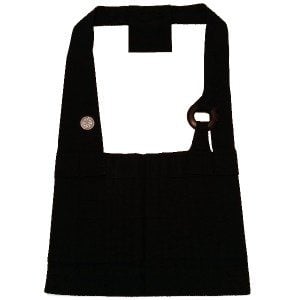 I believe it is fair to say the Zen way has three aspects to it. They are wisdom, meditation, and a moral vision. I address wisdom or awakening here. I address Zen meditation here, and koan introspection as a subset of Zen meditation here. This brief essay is meant to provide pointers to a reflection on that moral vision which is a critical aspect of Zen's teachings, I would say, equal to wisdom and meditation. Like several other spiritual traditions this way can be understood by the analogy of a three-legged stool. You miss one, you miss it all.
The wonderful Shohaku Okumura writes a concise overview of Soto Zen's Bodhisattva precepts. I recommend it highly, as a best way to start.
As to the precepts themselves:
In Japanese Soto Zen the first three precepts are simply the traditional Buddhist refuges.
I take refuge in the Buddha, I take refuge in the Dharma, I take refuge in the Sangha.
They are followed by the three pure precepts. As they're presented in Boundless Way Zen:
Renounce all evil, practice all good, and save the many beings.
I reflect on these three here.
My lineage relative and friend Domyo Burk, dharma successor to the renowned Kyogen Carlson wrote a piece on the ten grave precepts where she provides her own rendering of them. I've always liked it a lot. I think they're particularly clear. They go:
Do Not Kill – Cultivate and Encourage Life
Do Not See Anything as Separate from Yourself – See and Honor Every Being and Thing as a Manifestation of Buddha Nature
Do Not Steal – Honor the Gift Not Yet Given
Do Not Place Self-Interest before Consideration for Others – Trust That You Have All You Truly Need
Do Not Misuse Sexuality – Remain Faithful in Relationships
Do Not Use the Power of Sexual Attraction Merely For Pleasure, Or For Building and Maintaining Your Sense of Self – Negotiate the Intricacies of Human Intimacy with Care, Respect and Honor
Do Not Speak Dishonestly – Communicate Truthfully
Do Not Hide Your Mistakes or Your True Nature with Coarse Or Subtle Lies – Speak From Your True Heart
Do Not Become Intoxicated – Polish Clarity, Dispel Delusion
Do Not Take Refuge in Distractions – Cultivate the Clarity and Energy Required For Practice
Do Not Dwell On Past Mistakes – Create Wisdom from Ignorance
Do Not Dwell Unnecessarily On the Past or Future – Have Faith in Your Ability, and the Ability of Others, To Grow and Change
Do Not Praise Self or Blame Others – Maintain Modesty, Extol Virtue
Do Not Compare Yourself To Others – Honor Each Person's Unique Process and Manifestation
Do Not Be Mean With Dharma or Wealth – Share Understanding, Give Freely Of Self
Do Not Worry About Lacking Anything – Take Every Opportunity to Be Generous
Do Not Indulge Anger – Cultivate Equanimity
Do Not Justify Self-defensiveness or Territoriality – Do What Needs To Be Done With an Attitude of Acceptance and Compassion
Do Not Defame the Three Treasures – Respect the Buddha, Unfold the Dharma, Nourish the Sangha
Do Not Give Energy to Skepticism or Cynicism – Cultivate Faith In, and Reverence For, That Which Is Greater
For further reading there are five books on Soto Zen's Sixteen Bodhisattva precepts that I recommend.
The first and in some ways the best of these is Robert Aitken's Mind of Clover: Essays in Zen Buddhist Ethics. First published in 1984. In, I believe, an eighth printing from North Point Press. Robert Aikten was an early Zen student working with a number of teachers although principally with Soen Nakagawa. He would eventually become a dharma successor to the renowned Koun Yamada.
Aitken Roshi is one of the beloved figures at the foundation of Zen as a living practice in the West. Among his other writings, his Taking the Path of Zen remains one of the more inspiring introductions to the practice. Following his straight forward style the roshi explains the context of each of the sixteen precepts and invites us into an intimate exploration of our own. If there is anything that dates this volume it might be Aitken's unapologetic socialism, which is particularly obvious in his reflection on the precept not to steal. On the other hand, some might consider him prescient.
John Daido Loori's Invoking Reality: Moral and Ethical Teachings of Zen is the briefest of these books. First published in 1998, it is available from Shambhala Publications. Daido Loori first studied within the Rinzai tradition but eventually became the student of and later a dharma successor to the renowned Taizan Maezumi. If someone feels daunted by the idea of reading a book about ethics, this is volume I recommend. It is concise without missing critical points. In some ways it is a precise of his more expansive reflection The Heart of Being: Moral and Ethical Teachings of Zen Buddhism. The Heart was published two years before Invoking, by Tuttle Publishing. Unfortunately it is out of print, although a Kindle edition is available.
Reb Anderson's Being Upright: Zen Meditation and the Bodhisattva Precepts was published in 2001 by Shambhala Publications. Reb Anderson was a senior student of Shunryu Suzuki and Richard Baker's first dharma heir. He would become the third abbot of the San Francisco Zen Center. I read the book once fast and didn't think much of it. Then, later I was giving a talk and I recalled something he said. After having this happen a couple of more times, I went back and read it a second time. This is a very good book. It is a sneaky thing, creeping up on the reading, and I really recommend it.
And, after Robert Aitken's Mind of Clover, my favorite of these books is Diane Eshin Rizzetto's Waking Up to What You Do: A Zen Practice for Meeting Every Situation With Intelligence and Compassion. Like two other books in this little bouquet, it comes to us from Shambhala, first published in 2006. Rizzetto was a high school drop out, a single mother, who stumbled into the Zen way. She studied with Taizan Maezumi and would eventually become a dharma successor to Charlotte Joko Beck. She brings a practicality that is unique among a series of practical books about something very important, intimate, ultimately about the proverbial rubber hitting the road. The roshi addresses eight of the ten grave precepts. The format is more like a workbook than any of the others here, with suggested exercises.
Here Daido Loori gives a very helpful talk on "twenty-first century morality."