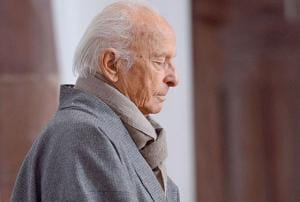 I just learned from my old dharma friend Ken Ireland that Father Willigis Jager died this past Friday.
Willigis Jäger was born on the 7th of March, 1925. He entered the Benedictine Order in 1946. He was ordained a Roman Catholic priest in 1952.
In 1960 his work took him, among other destinations, to Japan. There he met the remarkable Jesuit priest and Zen teacher Hugo Enomiya-Lassalle. He first began a deep investigation of Zen and the koan way with Father Lassalle. And then he continued with the Sanbo Zen householder koan master, Koun Yamada. He would spend six years in Japan studying with Yamada Roshi. In 1980 Father Jager received authorization to teach from Yamada Roshi.
Jager Roshi became a prominent teacher of koan Zen in Europe. In 1983 he founded the Haus St Benedikt as a Zen and Christian contemplation center. He was also principle in the formation of the Ecumenical Working Group on Contemplative Prayer, which would later become the Wurzburg School of Contemplation.
In 1996 Koun Yamada confirmed Willigis Jager as a full Zen master in a public ritual of dharma transmission.
For several years there were complaints against Father Jaeger within the Catholic Church accusing him of subordinating dogmatic teachings to mystical experience. On March 1st, 2002, Cardinal Joseph Ratzinger at the time Prefect for the Congregation for the Doctrine of the Faith, Rome's successor organization to the Inquisition, ordered Father Jager to cease all public activities, including lectures, courses, and publications.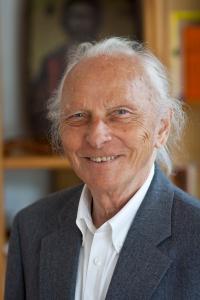 He declined the silencing, and instead was granted permission to leave residence at the order, at first temporarily, in order to consider his vocation. He ended up leaving all leadership roles as a Benedictine, but continued as a friar.
Jager Roshi taught with the Sanbo Zen community until 2009 when he chose to teach independently creating the Empty Cloud lineage. That year he also received confirmation as a Zen master from the Chan Grand Master Jing Hui, abbot of the Bailin Temple in Hebei Province, China.
In 2016 Jaeger retired from active teaching.
On the 20th of March, 2020, shortly after his 95th birthday the Roshi died.
He left many dharma successors and others inspired by his life and his teachings.
He was a prolific writer. His works in English include The Way to Contemplation: Encountering God Today, Search for the Meaning of Life: Essays and Reflections on the Mystical Experience, and Mysticism for Modern Times: Conversations with Willigis Jager by Christoph Quarch & Paul Shepherd.
Willigis Jager stands out as a signal figure within the movement for interfaith dialog, especially for those among us who embrace the term spiritually fluid or multi-faith. He was a generous and wise teacher. And his influence no doubt will continue for many years to come…
If you speak German there is an extensive collection of talks and other materials available on Youtube. For instance: