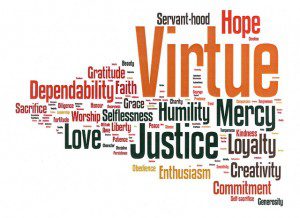 I remember being taught in YW and Sunday school as a youth that it would be better to die than live as a rape victim or have sex outside of marriage. That I should defend my virtue "even unto death". That is so messed up. I'm glad to see the change in the Young Women's literature and wondered what you thought of it.
I am so glad and heartened to hear that the scripture Moroni 9:9, which says, "For behold, many of the daughters of the Lamanites have they taken prisoners; and after depriving them of that which was most dear and precious above all things, which is chastity and virtue — " is in the process of being taken out of the Young Women Personal Progress materials. It is not in our daughters' best interests or wellbeing to have any correlation to the idea that chastity or virtue can be things robbed from you via sexual assault. Nor is it helpful to bring up the violent images of rape when learning about a word that has so much potential for beauty, joy and healthy living. As one of my Facebook followers said: "If we want to teach virtue let's give examples of virtues." This is definitely a step in the right direction, and I'm grateful to any leaders who had a role in making sure this change happened.
Unfortunately much of what you report hearing as a young woman came from some distressing quotes found in The Miracle of Forgiveness written by Spencer W. Kimball, which is no longer being sold at Deseret Books nor in print.
"Also far-reaching is the effect of loss of chastity. Once given or taken or stolen it can never be regained. Even in forced contact such as rape or incest, the injured one is greatly outraged. If she has not cooperated and contributed to the foul deed, she is of course in a more favorable position. There is no condemnation where there is absolutely no voluntary participation. It is better to die in defending one's virtue than to live having lost it without a struggle."
Also from the same book:
"Your virtue is worth more than your life. Please young folk, preserve your virtue even if you lose your lives."
I will not go into depth as to regards of the serious problems with these statements, since I recently addressed this topic last week: No Repentance Needed for Abuse Survivors! But it is worth saying that no trauma survivor should think or feel that death would have been a better option than surviving from a worthiness perspective. Never is this the case. And Heavenly Parents would never want that to be a spiritual/psychological burden for a survivor to carry.
I remember being concerned when the new Young Woman's Value of Virtue came out to begin with. It really read more like the value of "sexual purity," without wanting to call it that explicitly. But virtue does not equal sexual chastity. It is a much grander concept than one's sexual behaviors. And virtue does not equal virginity.
I love the following definition:
"A virtue is a trait or quality deemed to be morally good and thus is valued as a foundation of principle and good moral being. Personal virtues are characteristics valued as promoting collective and individual greatness."
Why this word has become primarily tied to the absence of sexual behavior for teens in Mormon rhetoric is disappointing and I believe we miss some really great opportunities to expand the great potential this trait holds. Hopefully our focus will shift towards a more expanded view.
LDS feminists applaud as church removed troublesome Book of Mormon verse on rape from youth book
Natasha Helfer Parker, LCMFT, CST can be reached at natashaparker.org. She authors the Mormon Therapist Blog, hosts the Mormon Mental Health and Mormon Sex Info Podcasts, writes a regular column for Sunstone Magazine and is the current president of the Mormon Mental Health Association. She has 20 years of experience working with primarily an LDS/Mormon clientele.