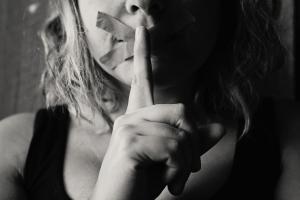 It was extremely sad, and yet not surprising, to see the information shared on Mormon Leaks today in regards to prior Provo MTC president, Joseph L. Bishop. Another example (in many I have been privy of) where LDS leaders are protected from correct investigation and prosecution… (not to mention church discipline) usually because a "repentance" process is undergone by leaders who don't pass the responsibility to civil authorities and who don't want to ruin another's reputation.
I also want to share my most recent podcast on Mormon Mental Health where "Dave," a prior bishop… talks about some of the things that happen when abuse gets reported within the church system… when the LDS hotline gets called… and his very clear guidance that the church is not the entity to go to with these issues. That the appropriate place to go is to civil and mental health authorities who are trained, qualified and have legal jurisdiction to deal with these types of issues.
This also relates with the protectldschildren.org movement which I am in support of. Where we need to put normative, best-practice approaches in place that would reduce sexual abuse risk dramatically for LDS youth.
I'm not sure why we haven't taken a lesson from the history disaster the Catholic church has had to deal with in regards to systemic issues of abuse.
It is NOT enough to say "we deal with (child abuse)… immediately and directly. The Church has a zero-tolerance policy when it comes to abuse. This means that if we learn of abuse, we take immediate steps to protect the victim and help them with healing." (LDS official statement) That is great from a theological perspective. And I would think most of us agree with this.
However, it is in the practice where things go terribly awry. And we cannot continue to be "offended" whenever victims raise their voices, or their allies raise voices on their behalf. Because it is crystal clear that at this time there is some serious systemic failing within our church system when it comes to dealing with these types of issues appropriately. And saying that does not make me an apostate… a church hater… a person influenced by Satan… a prideful person that has become worldly. I mean, goodness grief. This is common sense type of stuff. And it's time for us to come together as a church community to openly address these issues in a very different way than we have been.
It's okay to say we've made mistakes. It's okay to say we need to improve. It's okay to ask for help. It's okay to ask for forgiveness of the hundreds of thousands who have been harmed in the process. It's okay to show humility.
Not only is it "okay." This is part of the very repentance process we are taught. And yes… we need to repent as a church entity. This will not make us lose respect. In fact it will do the very opposite. It will garner respect. And as we know from the doctrines of repentance… everyone wins. Victims feel validated and can heal faster than they otherwise would. Perpetrators can face the accountability and resources they need. And the system in of itself can move in much healthier directions. The more we keep this in the realm of "us" vs "them" – the more we all lose.
If the church responds defensively… by stating once again, that of course the church does not support abuse (after all we have a hotline!)… we will have lost yet another major battle and opportunity.
A Look in a Mirror – Piece written by friend, Lindsay Hansen Park.
Natasha Helfer Parker, LCMFT, CST runs an online practice, Symmetry Solutions, which focuses on helping families and individuals with faith concerns, sexuality and mental health. She hosts the Mormon Mental Health and Mormon Sex Info Podcasts, writes a regular column for Sunstone Magazine, is the current president of the Mormon Mental Health Association and runs a sex education program, Sex Talk with Natasha. She has over 20 years of experience working with primarily an LDS/Mormon clientele.