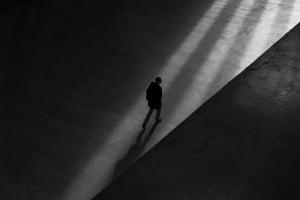 I have been open in the past in regards to my concerns for the outdated, abusive, and socially ostracizing practice of excommunication. It's a spiritually violent, unnecessary act that does not represent the beautiful ministering messages we can read from Jesus Christ. Not to mention it does much harm for a person's mental health and wellbeing.
Friend and fellow podcaster Bill Reel (host of Mormon Discussions), is facing an LDS disciplinary counsel and more than likely, excommunication. Once again… for talking openly and honestly about issues we have within our church. (In spite of several known sexual assault predators that I am aware of currently that have not been disciplined whatsoever… but I digress because that is a topic for another post).
I'll never forget the first time I heard Bill speak at a presentation he was giving about his podcast work. I believe he was a bishop at the time and I got the impression he thought he was fairly progressive and nuanced. He had no idea how condescending many of his comments were in light of speaking to those who seek historical answers, have doubts or for which the church has become more of a harmful place than healing.
I remember several eye rolls I did not hold back. Sorry Bill.
It's been fascinating to watch his personal faith journey transpire to where it's led today. I see him now as one who has gained much humility due to the pain of his own questioning and confusion he had to endure… as well as becoming an ally of many important causes.
Bill, like myself, is a product of Mormonism. Mormonism taught us to seek truth, think for ourselves, help others, take action and never be afraid to face the consequences of "doing what's right." It's so ironic that then so many of us who are addressing things such as social justice, accurate history, accountability for abuse, etc… face discipline in one way or another when doing exactly as our conscience dictates. It's also devastating to me each time I read in these letters from the Church… the invitation to leave the fold if one wants to avoid discipline. It's shocking. This, from the one church that should more than any other be emphatically stating Christ's continual plea: "Come unto me."
I, for one, do not accept that certain types of Mormons who have reached certain rungs on a leadership ladder can hold our church membership hostage.. and decide who gets to "fit in" or not. I know leaders have the power to do so physically… but never emotionally… never ethnically…. and most certainly never spiritually.
Bill…. my love and thoughts are with you, Amanda and your family as you face this betrayal from a community you have loved and served and grown up in.

May this type of spiritual violence stop once and for all in my church is one of my prayers this day.
*One final thought: the mandate to not "record" is not genuine. The church clerk keeps written notes and records the proceedings during a counsel. This whole process puts the person being disciplined in a huge power differential that only protects the church. If it is a man being disciplined, it's one person sitting in front of 15.
Bill Reel – Disciplinary Court Is Imminent
Podcast of a panel (Natasha Helfer Parker, Jennifer Finlayson-Fife, Joanna Brooks, Dan Wotherspoon, and Brian Dillman) did together when John Dehlin and Kate Kelly were excommunicated.
055: The Effects of Excommunication on All of Us: Healing Perspectives
Natasha Helfer Parker, LCMFT, CST can be reached at natashaparker.org and runs an online practice, Symmetry Solutions, which focuses on helping families and individuals with faith concerns, sexuality and mental health. She hosts the Mormon Mental Health and Mormon Sex Info Podcasts, is the current president of the Mormon Mental Health Association and runs a sex education program, Sex Talk with Natasha. She has over 20 years of experience working with primarily an LDS/Mormon clientele.