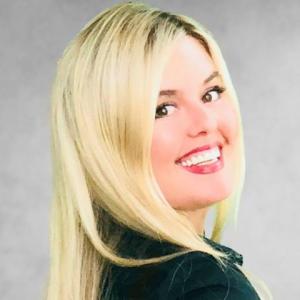 Today's guest post is written by Kristin Marie Bennion. Opinions shared on guest posts may not completely reflect the positions of the blog's author. 
Kristin Marie Bennion is a Licensed Clinical Social Worker, an AASECT Certified Sex Therapist and the founder of Intimate Connections Counseling in Orem, Utah. She has been practicing as a licensed mental health and relationship therapist for over eight years and uses evidence-based treatment to assist clients in improving their emotional, psychological, sexual and spiritual wellbeing and experience.
Waves. I love waves. Waves can be amazing – pretty much one of the most amazing things you can ever feel against your skin, if I'm perfectly honest. They can rejuvenate you, cleanse you, and make you feel that everything that you are, even your smallness (in comparison to the enormity of this world) is just as it should be.
⠀⠀⠀⠀⠀⠀⠀⠀⠀
And then there are waves that can really hurt you. They can decimate, tear you down and make you feel you are helpless and less than anything significant. You can be standing there, feeling the sun caressing your skin, the sand's welcome massaging of your feet, and then – bam! You are down. You are knocked over and fighting to regain stability.
⠀⠀⠀⠀⠀⠀⠀⠀⠀
The belief or lesson that a life without waves is a life that is "right" or "as it should be" is one of the most toxic beliefs we can embrace, in my opinion. Guess what? Life brings waves, including the tough ones. They are going to happen. So many of them. If we are under the belief that difficulty, pain, or strife *shouldn't* happen, we can become consumed with concern about why the waves hit us versus gaining understanding of how to prepare for the waves of life and building our resilience.
⠀⠀⠀⠀⠀⠀⠀⠀⠀
Sometimes it's really difficult to accept that painful waves are going to hit us, but once we do, we can better prepare for them. One of the ways I migrate the tougher times is I try to do my best to not compare my difficult times to that of others. I also really try to find purpose and personal meaning during the struggle. I definitely do not do any of this perfectly, but I am a true believer that it helps when I do!
⠀⠀⠀⠀⠀⠀⠀⠀⠀
I would love to hear some of the more healthy ways you've learned to migrate the more difficult waves of life? Please share them below!
Natasha Helfer Parker, LCMFT, CST can be reached at 
natashaparker.org
 and runs an online practice, 
Symmetry Solutions
, which focuses on helping families and individuals with faith concerns, sexuality and mental health. She hosts the 
Mormon Mental Health
 and 
Mormon Sex Info
 Podcasts, is the current president of the 
Mormon Mental Health Association
 and runs a sex education program,
Sex Talk with Natasha
. She has over 20 years of experience working with primarily an LDS/Mormon clientele.