The sun rose plum-red
above her native ocean
into the white sky.
Her trailing branches
caught with them a woman, made
of steel, big with child.
She was heavy with
a deathly issue: her son
and her Little Boy.
Accompanied by
two others, she flew westward
o'er the rising sun.
It was the feast day
of the Light behind the sun,
a white, deathless Light.
Upon a mountain
westward, near the Old World's edge
It shone long ago.
It was then heavy
with a deathly issue, and
three sons beneath It
saw It rise, trailing
an accompaniment of
two others, elders.
The skiey woman
tore open her breasts; gave birth
to death; went her way.
The earthly city
was transfigured before them:
it shone that morning
like no launderer
could whiten any garment,
nor dye to redness.
The Little Boy fell,
and in mid-air, crucified
above plum blossoms,
proclaimed his gospel:
PEACE ON EARTH. GOOD WILL TOWARDS MEN.
And the innocents
died for it again;
no katana was broken,
but virgin children.
The mountains melt
like wax before the Lord, and
men's faces melted.
(But we were only
following orders. We were
fighting fanatics.)
Over that kingdom
the power and the glory
irradiated—
cherry branches bled
out into the Pacific,
silence to silence.
A little girl's eyes
full of glass shards, plucked out by
her father's black hands.
A strapping soldier's
picture, cracked in the wreck that
crushes his mother.
The Light once foretold
the exodus It would lead
from Jerusalem
before only three;
but on that day, many were led
up the mountain, up
in a pillar of
cloud, in a pillar of fire,
white and red and white.
Forgive, forgive us,
Christ whom we crucified
in uncounted souls.
Domine pie,
diei lacrimosae,
dona eis requiem.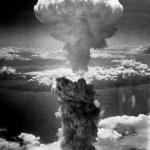 Image via Pixabay