Most Catholics have heard of the National Shrine of the Immaculate Conception in Washington, DC. It is America's largest Catholic church and the frequent site of Masses broadcast by EWTN. However, there are many more shrines across the United States.
A blog by Sara and Justin Kraft—"The Ultimate List of The Catholic Shrines in the USA"— defines a shrine as "a church or other sacred place which has the approval of the local bishop, and which is visited by the faithful as pilgrims (based on Canon 1230)."
While sometimes a shrine can be the place of a Marina apparition or a saint's tomb, more often it is dedicated to a specific devotion or is the repository of a relic.
The Kraft blog lists pictures and descriptions of some of the better-known shrines and provides a link to a comprehensive state-by-state list. https://www.coraevans.com/blog/article/ultimate-list-of-catholic-shrines-in-the-united-states
If you are a day tripper or traveler, I recommend that you look at this list and start exploring. As the "Wandering Pew," my husband and I have been sincerely awestruck by the shrines we've visited.
Examples of Shrines
In previous blog posts, I have written about the Shrine of Our Lady of Leche in St. Augustine, Florida, the Shrine of St. Joseph in St. Louis, Missouri and the Mission Basilica in San Juan Capistrano, California. https://www.patheos.com/blogs/musingsfromthepew/2021/12/our-lady-of-la-leche-a-needed-image-for-women/ https://www.patheos.com/blogs/musingsfromthepew/2021/11/the-church-of-miracles-the-shrine-of-st-joseph-in-st-louis-missouri/ https://www.patheos.com/blogs/musingsfromthepew/2021/09/famous-churches-still-serve-their-communities/
I made a point in the post about San Juan Capistrano that, besides being the historical mission to which the swallows return every year, the basilica is still a working parish catering to the needs of its congregation like every other parish.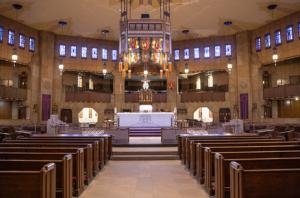 Another such example is the National Shrine of the Little Flower Basilica in Royal Oak, Michigan. Every time we visited, we were struck by the constant activity of events and ministries. https://shrinechurch.com/
Perhaps that is because the shrine is a parish consisting of 4,600 families that supports 1,050 students in their pre-K through Grade 12 schools. That's a city by itself, all centered around a stunning church and its complex of buildings.
Big and Small
In contrast to the Little Flower Basilica is the National Shrine of the Infant of Prague in Prague, Oklahoma. The small Czech-settled town has just 2,500 people, but there are 8,000 members of the shrine! https://www.shrineofinfantjesus.com/
One of the largest we've visited was the National Shrine of Our Lady of the Snows in Belleville, Illinois, just outside St. Louis. Over one million people visit there each year, and some people live there in a retirement village. https://snows.org/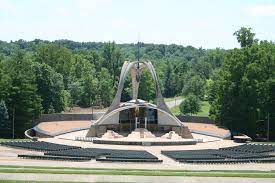 Situated on 200 acres is not only a church but also the shrine with amphitheater, two chapels, three gardens, a Lourdes grotto, Way of the Cross, hotel and conference center, playground, rosary court, prayer walk, memorial wall and more!
All of it, especially the architecture, is beautiful. I particularly like the Christ the King chapel which contains six amazing images of Mary: Our Ladies of Knock, Fatima, Hope, Czestochowa, Africa and the Oblate Madonna.
Similarly, the National Shrine of St. Elizabeth Ann Seton in Emmitsburg, Maryland has two historic houses, lovely contemplative grounds, picnic areas, a museum, basilica and cemetery. https://setonshrine.org/
Back on the small side is the Black Madonna Shrine and Grottos in Eureka, Missouri, also near St. Louis. This shrine is truly unique in that it is composed of a number of natural stone grottoes.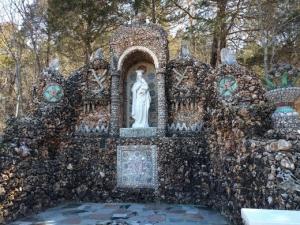 All of them were built between 1937 and 1960 by Franciscan Brother Bronislaus Luszcz, a native of Poland. Each grotto is an "intricate mosaic of seashells, costume jewelry, ceramic figurines and other colorful bits brought to him by pilgrims."
https://en.wikipedia.org/wiki/Black_Madonna_Shrine,_Missouri
Since the entire shrine is outdoors, it has been the victim of repeated vandalism and arson through the years. It needs more visitors, security and donations if the incredible work of Brother Bronislaus is to be preserved.
Another breathtaking shrine is that of Our Lady of Guadalupe in LaCrosse, Wisconsin. Thousands of pilgrims have journeyed up its hillside road to the various inspirational prayer sites. I hope the café still serves its delicious white chocolate cranberry scones—a bit of heaven on earth! https://guadalupeshrine.org/
Visit for Inspiration, Beauty and Fulfillment
Most of these shrines have visitor's centers, gift shops or tours, including online virtual tours so that you can view them from home. If that sounds a bit commercial, rest assured that the main business remains concentrated on the spiritual: Masses, other church services and programs, retreats and social ministries.
There are even tour companies that provide special Catholic shrine trips. If you are unaware of the wonders of shrines or that so many people are engaged by them, you need to venture out to discover what you are missing!
It is most gratifying to see the Church healthy and helping at these shrines—these places of solace, rededication, discovery and prayer.