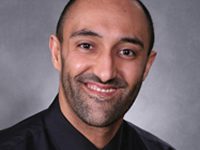 The Muslim Portal at Patheos  is hosting the "Three Questions" project for the month of September in conjunction with the tenth anniversary of the terrorist acts of 9/11.  We are asking American Muslims from across the nation three simple but important questions. Click here to learn more about the project.
Hesham Hassaballa, a pulmonary/critical care physican, blogger (God, Faith & A Pen), writer, and author of Noble Brother and co-author of The Beliefnet Guide to Islam, offers his answers to the three questions:
1. What is the most pressing issue or concern for you as a Muslim in America today, 10 years after the tragedy of 9/11?
Despite all the work of the American Muslim community, there is still a significant misinformation and misunderstanding of Islam and Muslims. Polls still consistently show that many Americans are unfamiliar or even uncomfortable with Islam. Further, as the study by the Center for American Progress shows, there is a well-funded, yet small, cadre of people who do nothing else but smear Islam, and their work has had an impact. Add to this the suspicion of the entire community by law enforcement, as the recent spying by the NYPD on Muslims has shown. Thus, we as American Muslims must not give up our effort to reach out and show the American public the truth of the American Muslim community. We cannot afford to lose either hope or faith. 
 
2. In what ways – inwardly /or outwardly – did 9/11 change you or affect you?
Before 9/11, I was an insular American Muslim, who did not really feel truly American. I was also suffering from the fevers of an intolerant fundamentalism. 9/11 destroyed that man, and a new, fully American Muslim was born on that day. Ever since then, I have made it my mission to show America the beauty of Islam. I also have done a serious reflection about Islam and what I thought to be true. Now, it is my mission to show people the beauty of living in the light of God's love.   
3. What do you think non-Muslim Americans most need to know about Muslims?
They must know that we Muslims are just like them. We care about the safety and longevity of America. We love our families and work hard to provide for them and live the American Dream. We are not a fifth column seeking to "destroy America" with our "Sharia law." As far as our beliefs, we are much more similar than we are different. Our common values lend themselves to working together for the common good. As Native Deen said, "We ain't gonna hurt you, try to convert you, just so you see how easily they trick you."