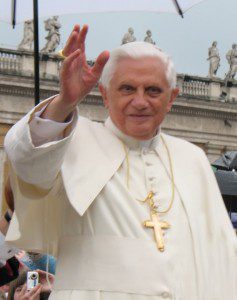 Pope Benedict XVI announced his resignation today. And I immediately thought two things – how busy and emotional a time this is going to be for Elizabeth Scalia, a fellow managing editor of the Catholic Channel at Patheos (and all the columnists, writers and bloggers on that channel), and is it even possible for a Pope to resign?
Apparently it is, but it hasn't been done in more than 600 years. As the news unfolds, opinions are voiced, speculations are made and jokes go viral about the Pope's retirement, the prevailing reason being given for this extraordinary turn of events is that Pope Benedict felt that in his advanced age, he was unable to handle the rigors and needs of the immense "job" (somehow job isn't the right word) he held.
That is something extremely extraordinary – for a religious figure of such high, high stature to step down from a position of immense power and spiritual and holy importance because he recognized that he could not serve the Catholic (and world) electorate the way it should be served.
I urge you to check out Patheos' Catholic Channel for all the latest on this news, including a plethora of thoughtful opinions, reflections, and ponderings on what this all means. (It is being updated as the day wears on.) Start with Elizabeth's post.
Two points immediately have stood out to me. What Elizabeth writes here:
Perhaps Benedict's retirement is meant to remind this exceedingly busy world — the non-stop, twenty-four-hour-live and very self-important world — that we are none of us indispensable; that there comes a time to step back, throw oneself into the arms of the Lord and trust that all shall be well, and all shall be well, and all manner of things shall be well.

Yes, I am sad. I have loved Benedict XVI; he has been my favorite pope — I loved John Paul, of course, but as I have said before, he was a grand, dramatic pipe organ of a man; he belonged to the whole world and his writings are often so dense I cannot plumb them. Benedict has always been the more accessible tinkling piano, simply inviting one to come closer. His copious writings have been almost avuncular in their gently-voiced but brilliant instruction, and somehow it always felt like he belonged "to me". I will miss him terribly.

I agree with Ed Morrissey, Fr. James Martin and others who call this an act of extreme humility, certainly we'll be checking with Rocco Palmo, and Deacon Greg, Kevin Knight at New Advent and so many great Catholic sites over the course of the day and in the coming weeks.
And what Sheikh Yasir Qadhi wrote in his Facebook status this morning:
You learn new things every day. I never new [sic] the Pope could resign! How do you 'resign' from that position?! Who do you write your letter of resignation to?!

In any case, one must admit that it does take courage for a man to publicly admit that he is not qualified for a job (especially his!). Jokes about his resignation are going viral, but if he resigned because he felt too old to do justice to his position, then I for one have respect for that honesty.

Frankly, if only some of our Masjid board leaders across America (who have been in positions of authority ten times longer than the current Pope) would also learn from the Pope, I'd be much happier… 🙂
As the managing editor of the Muslim Channel at Patheos and as someone who has covered Islam and Muslims in America for over a decade, I know that commenting on the resignation of the Pope is far beyond my realm of expertise. But I can't get over the idea that this very, very rare thing came from a place of reflection – a reflection, as Elizabeth writes, that none of us are indispensable. And as immensely difficult as it must be, sometimes we must acknowledge that we must step back and trust that all will be well, all will move forward and God will provide.
I look at my own little sphere, this world of myself, my children, my husband and autism. I can't sleep many nights thinking about a time when I will die, and Lil D will be left in this world — who will care for him, who will advocate for him, who will support him, who will love him the way I do? What happens when I must step down from my calling? I am trying my best to put all the plans in place — teach him independent living skills, get support and funding on board. I am not confident about this.
But then there is the lesson of today: None of us are indispensable. Work as hard as you can, and trust that all will be well.