I don't know if you know anything about me, well, you know as much as I tell you. BUT if you've been paying attention AT ALL, you know I LOVE Grey's Anatomy. I quote the show as much as humanly possible and if you've read my Cast of Characters, you know that.
I love this show so much that I was bereft when my beloved Christina Yang left.  I dance things out, I tell people to choose me, love me and I've been known to give out lots of good JUJU.
Oh, and when I ask you about your people? That's not me being racist. I refer to the people living in my home and in my heart, MY PEOPLE. Yes, that's right. In the sense that Christina is Meredith's PERSON, and now that Christina is all the way around the world in Switzerland, Alex is Meredith's person.
So, when I ask about your people, as in "How are your People?" I'm asking about your loved ones. The people closest to your heart.
So, I digress.
Why am I blabbing on about Grey's Anatomy?
Because Shonda has gone and done it again. (I've not done any research here, I'm assuming its Shonda Rhimes.) She is showing a Muslim, hijab wearing woman doing a normal life thing in the new intern class. I saw her in the background of the last few episodes before the winter hiatus, but last week I saw a post about The B Team on the official Grey's Anatomy IG.
Then I reposted it on IG, because that's what you do. You share the love when you see people doing good things.
Yesterday, I went and watched The B Team videos.
Dahlia Qadri (played by Sophia Taylor Ali) is featured prominently in episode 4, where she is partnered with Dr. Webber as her attending. She is so very much a newbie intern, asking for chances at scrubbing in, and regaling Dr. Webber with her skills at flash card making.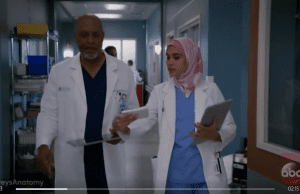 Then, she flashes him a pretty smile after asking if she could be put on Dr. Meredith Grey's service.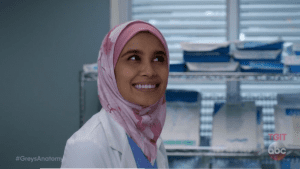 I can't wait for Thursday. I'm here doing my happy dance.