You would think the Great Commission is clear enough: Go into all the world and make disciples of all nations. Unfortunately, too many churches put other things ahead of reaching people. Here are 10 of the biggest: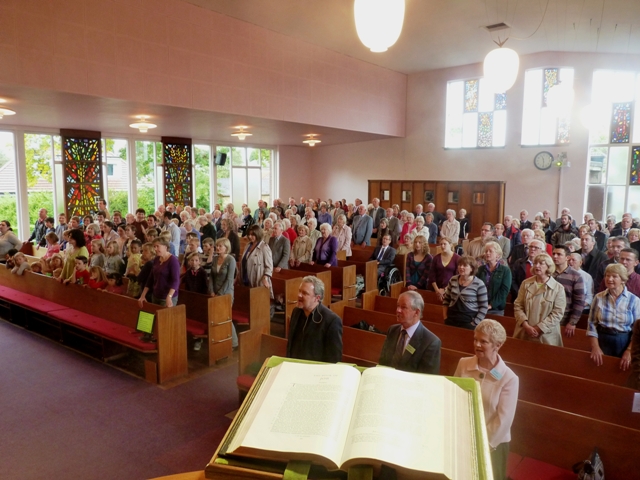 Location – Some people are tied to an address. Church is an address, a location. I've seen churches die because their people moved away and they weren't willing to reach the new folks in their neighborhood.
Buildings/Architecture – For some, the bricks and mortar are what make the church sacred, not the people. At my first church when our youth group exploded in growth we had to move into the sanctuary because it was the only room big enough for us. We had some ladies that were so concerned that every Thursday morning they would come into the sanctuary after our Wednesday nights and look up and down the pews for knicks or scratches. They were more concerned with the architecture then the people that architecture was designed to meet.
Tradition – You knew this one would get in here. Tradition has killed many a church. When churches pursue the past more than they pursue people, that church will die. Many times preachers will preach on the last seven words of Jesus, the seven phrases Jesus said while on the cross. I'll never forget what a Bible college professor told me once. He said, "Do you know what the last seven words of a church are? We've never done it that way before."

Music preferences – This one splits up more churches than perhaps anything else. We're fine reaching the next generation for Jesus, as long as they like our music our way. That's putting music preferences above people. And I'm not saying the contemporary music is the final answer. It's not a particular style of music but the heart behind that's willing to give up musical preferences to reach the next generation for Jesus. I've said this before, but when I'm older and I've got great-grandkids running around, I'm not sure what kind of church music they'll like, but I guarantee you I probably won't like it. The question is will I be willing to put reaching others ahead of my musical preferences?
Programs – The early church reached their world for Christ and became the dominant religion in the Roman Empire without Sunday School, without VBS, without youth groups or children's choirs. Church programs are designed to reach people, but we can never let them become more important than people.
Control – Some churches are stifled because there's a few families in control, and they simply don't want to give up control. They put control ahead of reaching people.
Social Status – The Bible says that in Christ there are no slaves or free or Greeks or Barbarians but we are all one in Christ. However, too many churches aren't willing to reach people outside of their racial, economic, or social status.
Cleanliness – Some churches aren't willing to do the heavy lifting required, they're not willing to roll up their sleeves and embrace the messes of the world. If we're not willing to get a little dirty, we'll never reach the world.
Status Quo – Some churches simply don't want to change. They're good. The light bill is paid, the buildings are paid off, there's enough of a crowd to give the illusion that something is happening. Some churches aren't willing to embrace the change necessary to reach people.
Religion – Put it all together, some churches put religion above people. They put their rituals, their observances, their routines, their beliefs, their ministry structures ahead of people. They feel like they're loving God, but they don't realize that you can't truly love God if you don't love people.
QUESTION: What other things would you add to this list?
In response to the popularity of this post, I've written several follow-up blogs tied to this one. Please check out:
10 (More) Things the Church Puts Ahead of Reaching People – a follow up post based off of your comments on this post.
7 Things the Church Puts Ahead of Reaching People – the video clip of the first time I ever shared the information from this post.
The Way Forward Past the 10 Things – how to begin to move past the problems toward the solution.
How One Church Changed to Reach People – a real life story of how one church changed to better reach people.