Bidding Farewell to a Sacred Space
Last August, after 26 years, I bid farewell to the home that knew all of my joys and sorrows. Each room contained memories that felt like capsules of my life, making it difficult to leave behind. Each wall seemed to hold voices of what was. While I was able to part with most of the home, there was one room in particular that I found hardest to let go of. It was my sacred place, my room of prayer; the room that held the words of my silence with the bareness of an open soul. A room that embraced all of me with the gift of loving quietude.
How Can We Move Sanctity?
One can move around objects, people can adjust to new spaces, and we might even recenter our life around new spaces and places. But the sanctity seems to remain exactly where it grew. How can we move sanctity? How do we transfer the spirit of a place from one location to the next?
When we create a new space to serve as our sanctuary, we do so in order to listen to the sounds of prayers, to connect with our deepest heart messages – to be one with ourselves. Ultimately, we strive to create physical spaces that allow us to deeply connect with our inner sanctuaries. Creating such a space allows us to be one with ourselves, meet our courage, breathe peace, swim in love, and embrace our whole self. We honor, acknowledge, and love all that we are and connect with the sounds of faith, hope, compassion, and honesty. However, the essence of our being, our presence, is what creates a sanctified space, one that we can decorate wherever our soul resides.
Establishing a New Sanctuary
And so, after 26 years, I found myself connecting to my inner sanctuary in new surroundings. Tucked away in a cozy corner underneath a colorful and joyous painting, I've found my place. Here, newborn heart moments paint the walls of my soul. Listening to the sounds of my silence with gentleness. Embracing the wisdom of my prayer and the gifts of my now. Gifting many of my moments with the softness of gratitude. Making place in a home for the sounds of our soul to be heard, prayers to be sung, is honoring the holiness of who we are.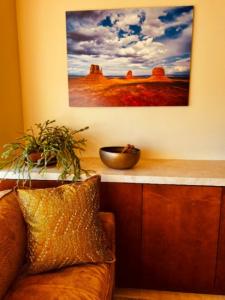 Photo by Susan P. Lax.
MORNING INSPIRATION
I have lived in a home that was a well-kept shed. 
I have lived in a home that consisted of one room. 
I have lived in a home that was shared by friends.
I have lived in a home filled with family.
I have lived in a home where fields of cotton formed my view. 
I have lived in a home where pavement sidewalks greeted my eyes. 
I have lived in a home where large rooms and space made for many solitary moments. 
My inner sanctuary, the core of my being, is a home wherever I am.
Where I meet up with courage, breathe peace, swim in love and embrace my soul.
Wherever you find yourself, in whatever place your home may be, your inner sanctuary awaits you.
If you liked this article, sign up for my newsletter, Morning Inspiration !
Click here to learn more about my book, A Heart's Landscape
Or join me on Instagram or Facebook
To read more of my regular contributions on  Patheos,  click here.