What Are the Healing Benefits of Poetry and Music.
These last few months I have been asked the question: What are the healing benefits of poetry and music?
Poetry and music have been intertwined for thousands of years.
In Hebrew there is one word for poetry and song," Shir", perhaps the creators of the ancient language understood the heart in more ways than we know.
Poetry and music can provide comfort during periods of stress, trauma and grief.
They often heighten a mood that then lifts the soul.
Their powerful combination of words, metaphor and tempo help us validate and express ourselves.
In a world, either collective or individual, where there is much chaos and uncertainty poetry, and music can offer a safe haven for healing.
Throughout History Women Have Provided Both Healing and Hope.
I have been privileged as an author to reach people across oceans and places I have yet to visit.
My work as a poet and writer have allowed me to share moments of joy, sorrow and hope, as well as my lessons from life.
Mostly giving me the opportunity to contribute to the gifts of someone's healing moment.
Inspired by the many women throughout history that have provided both healing and hope, I had a mission.
Just As Miriam, Moses's Sister, Led the People of Israel from Slavery to the Arms of Freedom With the Help of Music And Song.
After completing my book, A Heart's Landscape, I yearned for the gift of song and music to elevate the healing messages.
Just as Miriam, Moses' sister, led the people of Israel from slavery to the arms of freedom with the help of music and song.
I turned to Shira, a wonderful fairy folk singer/ songwriter to help me bring about this wish.
I felt that putting music to my poetry would allow healing to reach more souls.
With a united female energy, we created The-Heart-to-Heart Songbook
A concert putting music and poetry in spiritual conversation.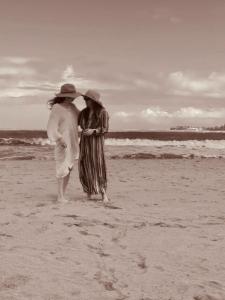 Today and everyday honor the woman in her, the woman in you.
Today, find the woman within you.
When you find her, you will know it.
Today, find the woman within you.
When you go after your heart's desires and beliefs, you will know that you heard her voice.
Today, find the woman within you.
You need her to guide you and be faithful to yourself.
When your compassion and humility grow, you will know her presence.
She will softly whisper your beauty, your ability to embrace the unknown.
Today, find the woman with in you.
Make room for her, in your heart, in your soul.
She will tell you all you have forgotten.
Reminding you to be loyal to yourself, to your spirit.
If you liked this article, sign up for my newsletter, Morning Inspiration !
Click here to learn more about my book, A Heart's Landscape
Or join me on Instagram or Facebook
To read more of my regular contributions on  Patheos,  click here.