Please pardon this divergence from my usual themes of Eucharistic ecclesiology and Orthodoxy in communion with Rome. For those interested only in how I broke into the independent professional wrestling scene as a referee, feel free to skip the next three paragraphs. For those wondering why I have not yet weighed into the Catholic anti-semitic Facebook controversy, keep reading.
Over the past few days, I witnessed several screenshots from a secret Facebook group for conservative and traditional Catholics. These screenshots feature some of the most vile anti-semitic comments that I can recall reading in a supposedly Christian context. Those targeted include Patheos Catholic colleagues Mark Shea and Rebecca Bratten Weis. Scott Eric Alt has posted a summary of the controversy here, and Mary Pezzulo has been on top of it here.
As a Catholic traditionalist myself, I am both embarrassed and disappointed.
I could understand if such comments originated from Neo-Nazis. I would still find the content vile, however, I would not be nearly as offended. Neo-Nazis generally don't profess the love of Christ with the same lips they use to spread hatred against Jews. Nor do Neo-Nazis receive the Most Holy Eucharist on the same tongue.
Yet rather than complain about anti-semites or rebut their hateful comments, I would like to share from my own recent life experiences.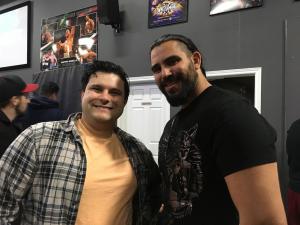 Jewish-Canadian professional wrestler Jean-Pierre Goulet (Tomer Sidi Shalom) was one of four rising independent Canadian professional wrestlers to take me under their wing when I first began pursuing my dream of becoming a professional wrestling referee. The other three were Freedom Wallace (Andrew McRae), Buck Gunderson (Ross Eightken), and Randy Bynoe (who, despite the denials of Barrie Wrestling's promoter Shawn Gibson and manager Jaze Hart, bears an uncanny resemblance to Patient 705.) Tomer's presence is at the same time friendly and imposing as you can see in this picture of him with Canadian-based traditional Catholic apologist Julian Barkin.
A feature story in Canadian Jewish News describes Tomer  as "six-foot-one, 245 pounds," and someone who "developed a credible shtick to make himself a more interesting character. He plays up the Israeli aspect, wearing a large Star of David on the back of his singlet and spicing his language with Hebrew." When playing heel, he is particularly unpopular among younger fans. For instance, my nine-year old daughter joined dozens of other boys and girls around her age in spontaneously chasing Tomer around the ring while pelting him with crumpled paper.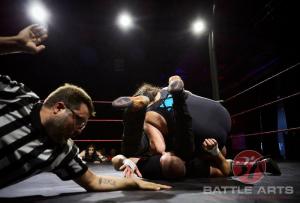 My experience of Tomer differs from that of my youngest daughter. Not only did Tomer take me under his wing during my initial training, but seeing how nervous I was, he arranged to be "ring general" when I refereed my first official match between him and Costin Ram. "Don't worry," he said with a calming voice backstage, moments before the announcer called us out to the ring. "It's a strait one-on-one match. No gimmicks or surprises. Just stick close to me and I'll talk you through it." He kept his promise as you can see from this photo. In fact my first match went a lot more smoothly than many of my subsequent rookie matches.
Several months later, Tomer also arranged to ring general my first tag match. Tag matches have their own dynamic. There is a lot more action with less time to think out one's response. I was not yet comfortable responding instinctively. So having Tomer as the most experienced professional wrestler in the ring to talk me through the match helped. Also around this time he came up with my wrestling nickname and persona "Sonya".
Finally, Tomer provided the recommendation that had me booked in my hometown of North Bay–my first show completely independent of the Battle Arts student brand. (Through Battle Arts, I had previously worked McCrae's Junction City Wrestling and Gunderson's Battle Arts Scarborough. So Tomer, McCrae and Gunderson continued looking after me outside of the training facility as well).
Yet the night I most appreciated Tomer was the night of my biggest failure as referee. I had been asked to officiate my first (and thus far only) main event. It was for the heavyweight title with Randy challenging incumbent champion "British Brawler" Ad Hutchinson.
I blew the match. Completely. So badly, in fact, that even Brawler and Randy with their experience could not save it. Despite their best efforts to correct me in the ring, their words did not register as I realized I was too far out of my comfort zone.
The moment I arrived backstage after the match, Tomer was waiting. With a calming voice he said: "You realize you blew the main event and completely killed the crowd. People are going to be upset. My advice tonight is not to take anything personally. Just accept the criticism, and put it aside tomorrow [Sunday] when you do your church thing with your family. We'll review the tapes on Tuesday and I will talk you through what went wrong so that you do better next time."
Knowing there would be a next time gave me hope. Especially as I readied myself to face Brawler and Randy backstage. They too ended up being amazingly encouraging and understanding, but I was still ready to quit that night. Fortunately their encouragement won out in the end, and after a week's break I resumed training again.
In looking back at these four men with whom I have been privileged to share the ring, Tomer is an Israeli Jew, Randy is African-Canadian, Gunderson is Italian-Canadian Catholic, and McCrae is as Scottish Presbyterian a name as they come. Yet each of these men has worked together as students of the craft and as professionals. And in my case personally, each of these men invested their time and effort and reputation in me personally when I was still new and trying to learn the art of officiating. In fact, I am still new and in my initial learning phase.
Yet one of the most important lessons they have taught me–both collectively and as individuals–is that there is no room for hate or prejudice in our locker room. Especially not hate or prejudice based upon race, religion, or ethnicity. It spoils the show by poisoning the comradery and trust between those working the match–whether wrestler, promoter, ring announcer, or referee. Professional wrestling is inherently dangerous. We all have to communicate and work together to stay safe while putting on the best show possible for the fans. Any less risks souring the fans. Lack of trust between performers kills the suspension of disbelief necessary to telling one's story in the ring.
As a Byzantine Catholic traditionalist, I expect no less from those with whom I share the Eucharist. In fact, I hold my fellow Catholics to a higher standard. Hate and prejudice spoil the Spirit of the Liturgy. Especially the Divine Liturgy where our Lord is made present in the Eucharist.
[Special thank-you to
Andrea Kellaway Photography
for the in-ring photo of Tomer, Costin and me.]
**********

A fan capture's Tomer's WWE debut as Jean-Pierre Goulet: