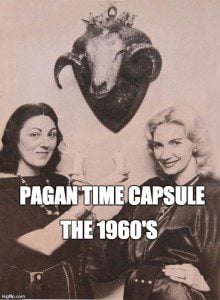 This year marks the 60th Anniversary of Public Paganism. Back in 1954 Gerald Gardner released the first book documenting a living, breathing, and long-lasting Witch tradition. Gifted with an introduction by Dr. Margaret Murray Witchcraft Today launched a now world-wide religious movement. I'm sure that Witches and other Pagans existed and practiced before Gardner, but Gardner made his (and by extension our) presence known in a big way. Modern Paganism would most likely have existed without Gardner but perhaps in a very different and/or diminished form.
In celebration of sixty years and seven decades of Public Paganism I'll be breaking down the essentials of Paganism decade by decade. I'll take a look a the books, the music, and movies that have driven (and continue to drive) Modern Paganism. The items contained in many of our early Pagan Time Capsules will be a bit Witchcraft-Centric, but that will change as the decades move along. In each time capsule I'll be placing five to six books, one movie, a few songs, and one bonus item. The Sixties were a big decade for Paganism, this one is going to be fun.
Other editions of Pagan Time Capsule: The Fabulous Fifties, the Swinging Sixties, Shagging Seventies, Ecstatic Eighties, and The Nifty Nineties. The entire series is also summed up here in Pagan History on the Margins.
BOOKS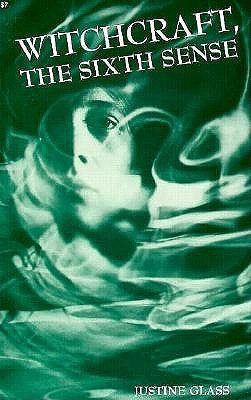 The 1960's were a marked improvement over the 50's in terms of Pagan books, but things were still rather limited. Even with those problems there were still some interesting and important books released in the 1960's. Many of them were most certainly firsts in their field and ranged from pseudo-scholarly examinations of Witchcraft to first person accounts of the emerging Witch Religion. British archeologist and paranormal researcher Thomas Charles Lethbridge was the first writer to examine Gardner's version of Witchcraft through the lens of history. His conclusions in Witches (1962) don't all add up, but he touches on topics varying from Leyland's Aradia to the Hindu Vishnu.
Justine Glass's Witchcraft: The Sixth Sense (1965) was written not by a practitioner but by a journalist and real English Witches were interviewed and written about in the book, including Patricia Crowther, Doreen Valiente, and Robert Cochrane. Crowther and Valiente each wrote their own books in the 1960's too. Valiente's Where Witchcraft Lives was first released in 1962 and contains a lot of folklore and magical tradition that Valiente links to Witchcraft. It's also the first book written by a Witch that makes an honest attempt to provide real references. Crowther's 1965 book The Witches Speak (most likely written by husband Arnold) was the first Witch book written by an out and out practitioner. Gardner's books along with Valiente's Where Witchcraft Lives have a "curious chronicler" sort of tone to them, the Crowthers wrote as Witches not interested scholars.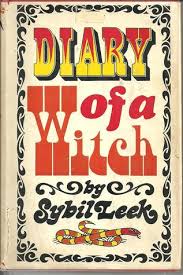 It's hard to take some of the claims made in Sybil Leek's Diary of a Witch seriously in 2014 (I have trouble believing Aleister Crowley was an "uncle figure" to her as a child) but it remains an extraordinary book by an extraordinary Witch. Leek is sometimes overlooked today but was one of the most well-known Witches on the planet during the 60's and 70's, appearing on countless television programs and writing over two dozen books.
MUSIC
There are dozens of albums and singles we could include here, but we are going to start with The Watersons Frost and Fire: A Calendar of Ceremonial Folk Song from 1965. There are a few songs on this album with explicitly Christian overtones, but tunes like John Barleycorn, The Derby Ram, and The Jolly Old Hawk were all thought to derive from the witch-cults written about by Margaret Murray. The Watersons were true folk singers too; their recordings are a gateway to an English Countryside in tune with the seasons and winking at the local church while practicing traditional pagan rites. Frost and Fire is an aural delight with harmonies for miles. While the music taps into a classic sort of feel, the recordings are still full of energy and life. This is music that sounds at home around a campfire or in a concert hall.
My favorite album ever with Pagan overtones is 1969's Liege & Lief by Fairport Convention. Sadly the L&L incarnation of Fairport only lasted about eighteen months, but what an eighteen months it was! Everyone in the band was a virtuoso (Richard Thompson and Simon Nicol on guitars, Dave Swarbrick with the fiddle, Dave Mattacks on drums, Ashley Hutchings on bass, and the incomparable Sandy Denny on lead vocals) and together they reinvented folk music, turning English folk-ballads into folk-rock with imaginative arrangements and contemporary instrumentation. This record rocks and reels and sometimes has me banging my head and Morris Dancing all in the same song. Before Stevie Nicks, Tori Amos, and Kate Bush there was Sandy Denny the witchiest lead singer ever!
https://www.youtube.com/watch?v=guFZkLxYM60
MOVIES
We were scraping the bottom of the barrel during our 50's Time Capsule, not so much in the swinging sixties! Media Witch Peg Aloi thinks that Rosemary's Baby might be the most influential movie ever in the Pagan and Occult scenes and is an easy choice for this 1960's time capsule. Much of what makes Rosemary's Baby (released in 1968) work is the idea that your normal looking neighbors might just be up to some occult activity . . . Sure the magical activity in RB isn't Pagan or Witchy, but in the late 1960's occult religions and philosophies often blended together as people looked for anything that might contain a scrap of ancient wisdom. Most horror films don't hold up very well but Baby remains kind of creepy, and the snatches of ritual shown on screen look at least a little similar to Witchy Ritual of the late 1960's.
https://www.youtube.com/watch?v=PewtQsgN5uo
BONUS

Sure, he's not one of us necessarily but Marvel's Dr. Strange was representative of the resurgence of interest in magic and the occult during the 1960's. Created by the great Stan Lee and Steve Ditko, Strange debuted in the 110th issue of Strange Tales and has been an important part of the Marvel Comic Universe since his inception. Mixing Eastern and Western elements Strange was Marvel's Master of the Mystic Arts and inspired a whole host of magically inclined folks back in the 60's and into the present day.
Do you like Raise the Horns? Even if you don't how about humoring a harmless blond-haired guy? Like RtH on Facebook, and also like Patheos Pagan for more great articles most of them far better than this one. Are you a Pagan living in the UK? Jason will be in London and Edinburgh this September and October, send him a message if you'd like to get a cup of tea or a pint of cider.