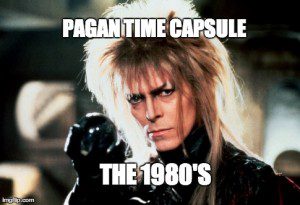 This year marks the 60th Anniversary of Public Paganism. Back in 1954 Gerald Gardner released the first book documenting a living, breathing, and long-lasting Witch tradition. Gifted with an introduction by Dr. Margaret Murray Witchcraft Today launched a now world-wide religious movement. I'm sure that Witches and other Pagans existed and practiced before Gardner, but Gardner made his (and by extension our) presence known in a big way. Modern Paganism would most likely have existed without Gardner but perhaps in a very different and/or diminished form.
In celebration of sixty years and seven decades of Public Paganism I'll be breaking down the essentials of Paganism decade by decade. I'll take a look a the books, the music, and movies that have driven (and continue to drive) Modern Paganism. The items contained in many of our early Pagan Time Capsules will be a bit Witchcraft-Centric, but that will change as the decades move along. In each time capsule I'll be placing five to six books, one movie, a few songs, and one bonus item. Compiling this list I started wondering if the 80's were perhaps Paganism's "lost decade?" Compared to its predecessor the 1980's doesn't feel as compelling, but great things happened during the decade as Modern Paganism continued its forward march.
Other editions of Pagan Time Capsule: The Fabulous Fifties, the Swinging Sixties, Shagging Seventies, Ecstatic Eighties, and The Nifty Nineties. The entire series is also summed up here in Pagan History on the Margins.
BOOKS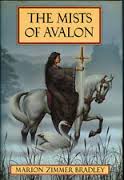 So much of this series has focused on non-fiction books, but one of the most important "Pagan books" of all time is a fiction novel. The Mists of Avalon* (1983) created a new entry-point for spiritual seekers and in doing so became as influential as any "101" kind of book. Marrying Goddess worship, Druids, and King Arthur, Marion Zimmer Bradley created a romanticized Celtic world that turned the conventional tale of Arthur on its head. Gerald Gardner's first book was a fantasy novel, and science fiction writers like Robert Heinlein were influential in many Pagan circles, but Bradley's book was one of the first books with an explicitly Pagan tone and feel to cross into the New York Times Bestseller List.
A few weeks ago an acquaintance online argued that Scott Cunningham's Wicca: A Guide for the Solitary Practitioner (1989) was the first "101" Witch book ever published. I don't agree by any means, but it was influential. One of the most influential parts of the book is the word Wicca in the title. Cunningham's book wasn't the first to use the "W word" in its title, but it was the first mass-distributed-show-up-in-every-bookstore sort of book to use the word. Cunningham (and Llewellyn) opened a floodgate and made the use of the word Wicca fair game for publishers and authors. It probably didn't hurt that Cunningham's book was also easy to understand, very well written, and offered a "way in" for those without an established Pagan community.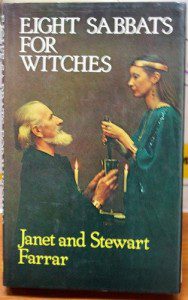 Before Cunningham's book English authors Janet and Stewart Farrar published their own "how to" books. Eight Sabbats For Witches (1981) and The Witches Way (1986) provided complete instructions for creating a coven and ritual structure in the style of Witches like Alex and Maxine Sanders. (Many people are more familiar with Eight Sabbats and Way as a combined volume: A Witches' Bible. Additionally Way was a reworked version of Stewart's earlier work What Witches Do, first published in 1971.) The Farrar's work in the Eighties remain the Witchcraft books I consult if I'm stuck somewhere. Never before had anyone written so exhaustively about British Trad-style Witchcraft.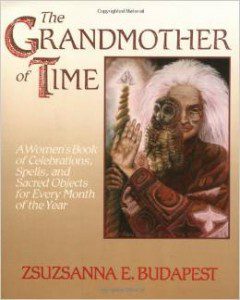 1989 also saw the publication of another sort of Witchcraft 101 book, this one dealing exclusively with Feminist Witchcraft. Z Budapest's The Holy Book of Women's Mysteries: Feminist Witchcraft, Goddess Rituals, Spellcasting and Other Womanly Arts is just as its title describes it and had the added bonus of being readily available at the mall. Holy Book is a reworked edition of Budapest's The Feminist Book of Lights and Shadows, but was also something completely different. Lights and Shadows was hard to find and not generally available at the average bookstore, Holy Book was and such things make a big difference. The clout of Witchcraft as a profitable-force in publishing was cemented by another Budapest book. The Grandmother of Time: A Woman's Book of Celebrations, Spells, and Sacred Objects for Every Month of the Year was published by the mainstream Harper Collins. Grandmother wasn't the first Witchcraft book to have that distinction, but the idea of Dianic Witchcraft being promoted by a mainstream publisher does make me a smile a bit.
MOVIES
I'm not sure how I feel about three Witches summoning Lucifer to be their love interest, but there are worse movies than The Witches of Eastwick. At least the Witches from Eastwick are sexy (one can't go wrong with Cher, Michelle Pfieffer, and Susan Sarandon) instead of grotesque (no green skin and warts here). More importantly the movie illustrates that magic has consequences and offers up the possibility that someone next door might very well be practicing the occult arts.
https://www.youtube.com/watch?v=ip1a-QEJY3Q
The 1980's were a fertile period for celluloid fantasy. I have very fond memories of B movies like Dragonslayer and The Beast Master, but the fantasy movie that best puts its left pinky toe into Modern Paganism might be The Labyrinth from 1986. You might be right if you think I'm just using Labyrinth as an excuse to get David Bowie on this page, but there's something fairty-tale-Pagan to me about going from this world into an otherworldly one simply because of a wish. The Fey have long been a part of many Pagan traditions (ancient and modern) and while Bowie's Goblin King is certainly not an accurate portrait of the royalty from those realms its always entertaining. I'm probably a bigger fan of Jim Henson's earlier fantasy-puppet tale The Dark Crystal (1982) but there's something far more Pagan about going from this world to that other one.
MUSIC
I've been including full albums in most of these Time Capsule pieces, but damn it there's no way I can't include Hymn to Her by the Pretenders (1986) and written by Meg Keene. The song is just so explicitly Pagan that it deserves to be bere. It also reached #8 on the British Pop Charts and has been a part of every subsequent "Best of" release by the band.

The 80's also saw the continued release of Pagan music by and for Pagans. One of the earliest and most influential was The Witching Hour by Lady Isadora with Lord Pan from 1981. Perhaps more so than Gwydion Pendderwen's first album, Isadora and Pan just sound Witchy to me. The Witching Hour has a mystic and ethereal quality to it that makes it the perfect compliment to reflective ritual. I'm sure Isadora's sweet yet commanding voice has a lot to do with how I feel about this album too.
1981 also saw the release of Catch the Fire by Charlie Murphy which contained the anthem The Burning Times. Before putting this together I hadn't heard The Burning Times in years and had forgotten just how powerful it is. There's that "Isis, Astarte, Diana, Hecate, Demeter, Kali, Inanna . . ." chant but the drum sound is nearly menacing while bordering on the hypnotic. If there's a Stairway to Heaven of Pagan Music it might very well be The Burning Times.
As the decades roll by in this series it gets harder and harder to limit my musical selections to just a few choices, so I'm going to finish off the 80's time capsule with two pieces of shimmering English pop. In a Pagan Place (1984) by the Waterboys has the most Pagan-sounding title of my final two records, but it's Skylarking by XTC (1986) that has always sounded the most Pagan to me. Both records contain glorious hymns to nature that have been overlooked for decades now in many Pagan circles. Skylarking is probably most known for the angry atheist letter Dear God, but to me it's the songs Summer's Cauldron/Grass and Season's Cycle that are the real heart of the album. If summer has a soundtrack it's the majority of Skylarking. Church Not Made With Hands by the Waterboys is a Pagan-pop gem that deserves a wider audience.
BONUS
It's hard to imagine Modern Paganism without festivals, and the 1980's saw an increase in festivals across North America. The first Pan Pagan Festival took place in 1976 and was followed by several others over the next few years. Circle Sanctuary started Pagan Spirit Gathering back in 1980 and Cleveland's ACE sponsored the first Starwood Festival one year later. For this time capsule I'm including Starwood 1982's Program Guide (which you can see at this link). Presenters that year included Ray Buckland and Selena Fox with the entire program providing a great jog through Pagan history.
Next: The 1990's!
*The works of Marion Zimmer Bradley in the Pagan Community are the source of some controversy. Bradley the human being did things that are just flat out wrong, however I feel as if ignoring The Mists of Avalon paints an incomplete portrait of Pagan history so I'm including it here.
Do you like Raise the Horns? Even if you don't how about humoring a harmless blond-haired guy? Like RtH on Facebook, and also like Patheos Pagan for more great articles most of them far better than this one. Are you a Pagan living in the UK? Jason will be in London and Edinburgh this September and October, send him a message if you'd like to get a cup of tea or a pint of cider.