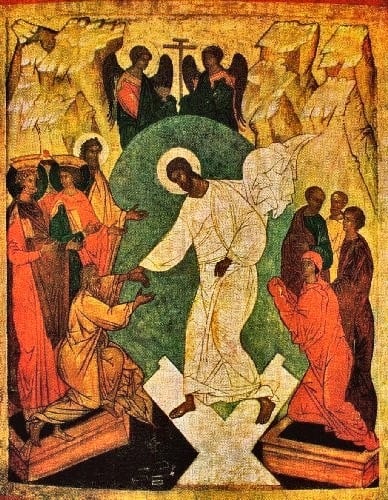 Each year Easter reminds me that renewal is for all of us all of the time, not just new converts at the moment of their baptism. As I said in Starting Anew, anothen, which means "born again" or "born from above," is so loaded, but it doesn't need to be. In the mystical literature of most religions, you find the metaphors of being asleep or dead or blind, and the potential of awakening or being reborn or seeing. I spent much of my life sleepwalking, not fully alive. It truly feels to me like, when I turned my life back onto the spiritual path and for the first time committed fully to it, I woke up, was revived, started to see clearly. In doing that, I found God and myself, and through that, I became a new person.
As Pope Benedict powerfully conveyed in his 2011 book, Jesus of Nazareth: Holy Week
, resurrection is not resuscitation, it's "about breaking out into an entirely new form of life, into a life that is no longer subject to the law of dying and becoming." We can participate in this and, he says quoting Colossians 3:1, be "raised with Christ."
One of my treasured possessions is a copy of an Eastern Orthodox icon given to me by my spiritual director before my own baptism (see the photo) which depicts what is commonly called the descensus, or "Harrowing of Hades," a non-canonical story popular in Middle Ages Roman Catholicism and still a part of the Orthodox tradition: Jesus, between his death and resurrection, stands atop the broken gates of Hades, the "Doors of Death," which have come off their hinges and fallen into the shape of a cross; he is waking Adam and Eve (symbolizing all of us) from their sleep and pulling them away from the control of death. He pulls them by their wrists rather than hands to symbolize that their own strength plays no part in this act of grace. Broken locks lay scattered at their feet.
Benedict in
Jesus of Nazareth: Holy Week
:
If we enter fully into the essence of our Christian life, then we really do touch the risen Lord, then we really do become fully ourselves.

Touching Christ and ascending belong together… [Christ] is not far away from us. At most we are far from him, but the path that joins us to one another is open. And this path is… the "space travel" of the heart, from the dimension of self-enclosed isolation to the new dimension of world-embracing divine love.
Easter comes in the midst of the annual rebirth of nature. Both remind us of the opportunity for renewal — that we can wake up from our "self-enclosed isolation" and reconnect to life, to the "world-embracing divine love," at our baptism, with all the Church at Easter, or at any time. Have a blessed Easter.
You can see all my Lent-themed pieces together at patheos.com/blogs/philfoxrose/tag/lent/. Please share that link, or one to my blog, with anyone you think might be interested. Thanks!