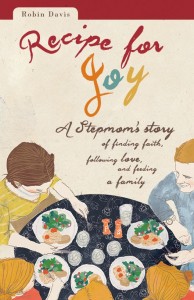 This Sunday, I'll be cooking for 35 – 50 people at St. Lydia's, something I do about once a month or so. Sharing meals and preparing food for others has often been a key part of my faith practice and community life. Breaking bread together relates to something basic about being human. We are communal creatures and sharing a meal is perhaps the most communal act. I've written about food here numerous times and shared recipes with you.
Robin Davis, a professional food writer, weaves cooking throughout her spiritual memoir, Recipe for Joy: A Stepmom's Story of Finding Faith, Following Love, and Feeding a Family
— it's the framework of her book. Each chapter is matched to a stage in a meal, from raising your glass in a toast to sipping coffee after the plates are cleared away. And each is accompanied, as my posts about food often are, by a favorite recipe. Ultimately, though, it's not about food, it's about faith and family; it's about the journey from a controlled self-focused life to a surrendered, openhearted shared life.
You won't find many direct theological statements or clearly defined lessons. Just personal stories that make points along the way. Davis tells us about her life, especially about her struggles with being a stepparent. And with motherhood in general.
She invites us along as she recounts "diving into a life for which I felt so unprepared." First there was the leap from Ohio to California and into culinary school and food writing. Then the leap from that life back to Ohio to be near family. And then the big leap to marriage and stepmotherhood.
Like Davis, cooking played a key role in my childhood relationship with my mother, spending a lot of time in the kitchen with her. Davis' description of her mother's cooking could almost be my own: Midwestern standards with attempts at ethnic food and a penchant for using then-novel convenience products like jarred sauces and Poppin' Fresh rolls.
Despite my love of that time spent in the kitchen with her, and the fact that unlike Davis it was not my mother but my father who was the self-destructive alcoholic, my feelings about my mother were just as complicated. And also like Davis, the love of cooking that began in the family kitchen continues to be one of the main ways I share with others.
Davis lovingly describes the value of family meals — not every night but at least a few times a week — especially in building a sense of family with her stepchildren. And she talks about taking on the bigger projects, becoming the host for holiday family gatherings.
At St. Lydia's every Sunday I take part in making and eating a meal together as the framework of our service. Years ago, when I was a Quaker, our small congregation had potlucks once or twice a month. I've always felt a deep spiritual dimension to sharing meals. As Davis says of food and religion early in her book:
There's a theory that if someone who knows nothing about Christianity reads the Bible for the first time, he'll go away believing it's all about food — from the dietary restrictions and the manna from heaven of the Old Testament to the New Testament's loaves and fishes, the wedding at Cana, and finally, the breaking of the bread, the Eucharist.
Recently, I've been rereading Dietrich Bonhoeffer's Life Together
as part of St. Lydia's theology study group and I'm reminded of his observation that "the table fellowship of Christians implies obligation. It is our daily bread that we eat, not my own. We share our bread. Thus we are firmly bound to one another," adding, "so long as we eat our bread together we shall have sufficient even with the least. Not until one person desires to keep his own bread for himself does hunger ensue." By eating together, we cement the bonds of real community, and the mutual obligation that comes with it.
Recipes for large groups
There are things specific to cooking for a large group that you might not realize if you've only cooked for smaller gatherings. Huge pots of water or broth take an incredible amount of time to come to a boil, especially on an electric stove. Chopping a small quantity of vegetables for a family meal might take two minutes, but chopping twenty times that amount will take 40, or something close to it. Even mixing and combining everything at the end can be tricky. Stirring a huge pot with 50 portions worth of pasta and sauce takes some real muscle.
At St. Lydia's, we've compiled and continue to add to a collection of recipes that work well for large groups. The Gyathuk Ngopa (Himalayan noodles sauté) that I'm making this Sunday is one of my contributions. You can read that recipe here. Note this time, I'm using ramps instead of garlic and lots of spinach instead of spinach and cabbage, because that's what's fresh locally this week.
So now it's your turn. Share a favorite recipe you've made for a large group (more than 12 or so). Like my Facebook page and post it there, or add it in comments below (but please like my Facebook page anyway.) Can't wait to see some new recipe ideas!
Click here to see my recipe for Gyathuk Ngopa (Himalayan noodles sauté).