NOTE: The following is a guest post from my sainted father, Galen C. Dalrymple, director at iam2.org, an organization devoted to crowd-sourcing compassion and empowering ministries serving the neediest children in the world.
Recently the filmmakers of Not Today, along with my friends at Lovell-Fairchild, took my father to India to learn more about the film.  He is an extraordinary man of God with a passion for these issues and stands at the helm of a faith-informed organization that can make a real difference for children in need of food, water or protection.  His first, second and third reports on the trip are linked.  Below is his fourth:  
*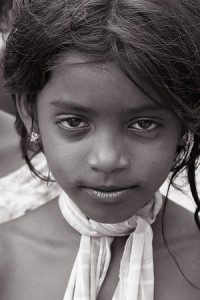 "Mary" is now 18 years old and she walks across the stage with joy.  Her eyes sparkle.  Her face beams when her name is called and she accepts her certificate of proficiency from the Tarika Women's Center in Bangalore, India.  This certificate will give her a brighter future, because she has learned a trade.  Without it, her future would be bleak.
Mary, you see, is a Dalit.  After years of being told she was nothing, that she was worth nothing, that she could never be anything, that she lacked even the tiniest reflection of any divine nature, she now knows better.
When Mary was just 5 years of age, she would be awakened by her parents during the wee small hours of the morning darkness and by 4 a.m. she was out trying her best to catch rats.  She wasn't being sent to catch and kill them because they were pests, but because they represented a potential source of income for her parents who would sell the meat from the rats she caught for others to eat.  The most notorious of those who would eat rats are called "mushars" or "rat eaters."  They represent the lowest of the low, the bottom rung of Dalits.
There was just one problem.  Mary wasn't very good at catching rats, no matter how hard she tried.  She just couldn't catch enough rats to help sustain the family.  So her parents sold her as a prostitute…at 5 years of age.  They needed the money.  Mary, after all, was just a Dalit girl.
For over a decade, Mary was a part of the sex trafficking of young girls (especially prevalent with Dalit girls) in India.  She had no rights – she had no say in what she would do or wouldn't do, or with whom.  A decade seems like forever in the life of a child, even when the years are good.  But when they are filled with pain, fear, shame, guilt, disease and abuse, they must seem an unbearable eternity.
Finally, after those interminably long years, Mary was rescued by Operation Mobilization/India and the Dalit Freedom Network. She was taken into a safe, loving place where she would be fed, clothed, and given medical treatment for her diseases.  She was sent to the Good Shepherd School, which teaches not from a Hindu worldview, but from a Christian worldview, where she learned that she had immeasurable worth because she was made in the very image of God, that God loves and cherishes her.  She learned English and a trade. Now, at 18 years of age, she was ready again to go out into the world, not to catch rats or be a sexual object for child rapists, but to earn a respectable living as a contributing member of society.
At the graduation ceremony we attended that night, Mary was luminous.  After the ceremony was over, she moved through the crowd to find her parents – the ones who had sold her into sexual slavery years earlier.  They had come to watch their daughter graduate.  Mary found them and sat on the floor by her father's feet, rubbing his lower legs tenderly and lovingly.
In Mary, I see the power of hope.  I see in her the truth that even the most debased and abused among us can be transformed, given a chance.  But perhaps more than anything, as she sat at her father's feet in the meeting hall where she'd been awarded her certificate, I witnessed first-hand the power of forgiveness.
How is it that someone can forgive a father who sent you out to catch rats at five years of age?  How can you forgive the same father who sold you into child prostitution?  There are no satisfying human answers to those questions, only supernatural ones.  That kind of forgiveness can only come from realizing that God loves you and cherishes you as His precious little girl or precious little boy.  Somehow, knowing that makes all the difference.  Knowing that, although you were grievously wronged, you can be forgiven for anything you have done or thought or wished upon others, and that you can forgive them, just as Christ has forgiven us.
I don't think I'll ever forget Mary's story.  I know I'll never forget the pride in her face, or in the faces of the 105 other women/girls who also received their certificates that same night – all of whom had faced sexual abuse of a similar nature.  Some things just make our hearts overflow.  Mary and her story is one example.
God is changing India, one person at a time, through the Dalit Freedom Network, through Operation Mobilization/India, through Friends Church from Yorba Linda, California.  These are amazing people being used by God to do miraculously good work. I encourage you to connect with them and help them make a difference – as they have made a difference already for women like Mary.
Of the men who were on the trip with me, I don't think there was a single dry eye.  We witnessed the amazing power of God on display in the lives of these Dalit women.  They had every right to hate every man they laid eyes on, but they didn't.  They invited us into their joy and celebration as if no man had ever wronged them.  I wept.