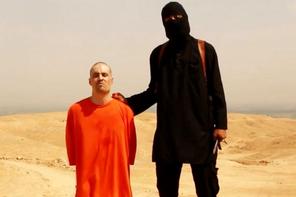 With the beheading of James Foley and the increasing reports of his Catholic faith, the word "martyr" is becoming more popular. Some would caution that we shouldn't use the word too lightly. I agree. At the same time, I also think martyrdom is more common than we realize. Here are 16 points (5+6+5) and few more for good measure.
It's been happening for a long time. Christians (and others) are being killed for their faith, for what they believe and for what they refuse to believe. I didn't begin to realize the extent of it until I went to Rome and studied with religious and clerics who could not wear their religious or clerical garb in their homelands. If they did, they would suffer persecution, even death. These people sitting beside me. Ordinary people. Death for wearing religious garb. Death.
At the same time I was in Rome, I had a friend working for one of the news services. Guess what? There are regular reports of people being killed for their faith, reports that never make the headlines in the US, not even with the magical interweb.
During the Synod for Asia, I was a copy editor at L'Osservatore Romano (the Vatican newspaper). It was part of my job to read all the English content; so I had to read all of the interventions [some had to be translated into English] that were given by Bishops and other Ordinaries from the various Asian countries. Eye opening is an understatement. I recall in particular one intervention that spoke of a village of Christians that was completely destroyed. As I recall, it's "under sand" now. (The reference may have been to multiple villages.)
The persecution of Catholics and Christians has been well documented in various books. I recommend Robert Royal's The Catholic Martyrs of the Twentieth Century. (Note to Crossroad Publishing – make that available in a Kindle edition with all that's in the headlines now.) I also recommend John Allen's book The Global War on Christians. Both authors make the point that there have been more Christian martyrs in the past century than in all the previous centuries combined. Archbishop Fulton Sheen has some pretty moving accounts in his autobiography Treasure in Clay, including one of a young girl who essentially gave herself her own viaticum (last Eucharist), probably without knowing it, just before being shot and killed by Communist soldiers.
While staying at the Domus Marta (Pope Francis' residence) in Rome this past June, I happened to have a conversation with a nun from India. In her part of the world  radical Hindus are killing Christians. She shared with me her copy of Early Christians in [the] 21st Century, by Anto Akkara, which details their brutal treatment.
So who are the martyrs?
The Catechism of the Catholic Church describes martyrdom as "the supreme witness given to to the truth of the faith: it means bearing witness even unto death." (CCC 2473)
Some things to note:
We have an obligation to do this. "In situations that require witness to the faith, the Christian must profess it without equivocation, after the example of St. Paul before his judges. We must keep 'a clear conscience toward God and toward men.'" (CCC 2471)
In line with what the Church teaches on conscience, we are also seeing the witness of Yazidis and other Muslims who are refusing to convert to the ISIS brand (yes, "brand") of Islam. (CCC 1776-1802) Are they saints in Heaven? I don't think we can preclude that. If they died as a result of their conviction of the truth, even if it's not the fullness of truth as Catholics believe, then they may very well be.
As Pope Francis just mentioned in his address to the Asian Bishops, we do not know all of the names of the Haemi martyrs. In fact we do not know most of them. They are saints nonetheless.
Allen's and Royal's books both note, there are many, many who have died for their faith whose names we do not know.
Catholics celebrate the Feast of the Holy Innocents every December 28th. These are the male infants and young children (ages 2 and under) whom Herod ordered killed in his efforts to kill the newly born King of the Jews for whom the wise men were searching. (Matthew 2, 1-18) These were children who couldn't even speak to defend themselves. They probably had very little awareness of what was happening to them except for the terror of being taken from their parents. They are considered saints and martyrs because they died for Christ, because of Christ, even instead of Christ.
Martyrs may not be people who have a great understanding of their faith. They may not have led the holiest of lives. The one thing that they do absolutely right is standing in witness to their faith when they must pay the ultimate price by dying to maintain that witness. They may not even be given much of a choice, but they do it when they die because of their faith in Christ who is the Truth.
So, is James Foley a martyr?
According to his siblings, Katie and Michael, who were interviewed on the Today Show, when Pope Francis spoke with the family by telephone, he said that their brother James is a martyr:
The brother and sister also spoke in slight detail about what the Pope said to the family when he called on Thursday afternoon. Michael said that the pontiff labeled James an martyr, who sacrifice would not be forgotten.
Has the Pope canonized James Foley? No.
Do we know that he officially said this? Nope.
Did he say this in a formal pronouncement? Negative.
Do I think the Pope could've said it? Yep. Absolutely.
And I wouldn't be surprised if he did.
Here's why:
We know that IS/ISIS/ISIL generally offers its captives a choice: convert to their brand of Islam or die, as witnessed by the thousands of people fleeing Iraq these past few weeks. It could be that they only wanted Foley because he was a US citizen and that they would have killed him regardless, but I doubt it. I think they would have celebrated if he'd become one of them. Heck, they've got plenty of Westerners joining them. The man who beheaded him is possibly a UK citizen.
More and more is coming out about his faith , his prayer, and the way he lived his life, particularly while in captivity. All of it suggests that he lived his faith well.
I don't think it's insignificant that they "made him stand against a wall and pose as if he had been crucified." (h/t Deacon's Bench)
If the terrorists had his family's email addresses, then they probably knew of his faith experience while captive in Syria. They certainly would've done their research and there was a clear trail on the internet.
Martyrdom is not something that happened a long time ago in ancient Rome, or more recently in the founding of the Americas a few hundred years ago. It's something that's happening a lot, most – if not all – of the time. Pope Francis is well aware of this, more so than most of us. If it takes the death of James Foley for us to realize that people are dying because of their faith every day, then that makes him even more of a witness to the truth.
A few weeks ago, the Middle East Media Research Institute (MEMRI) put out this video of an Iraqi television host breaking down in tears as he recalled how he was seeing the witness of the Christians who are being persecuted in Iraq. I've verified with two native Arabic speakers that the translation is accurate.

How do people know Christians and others of good will? By their actions, by their witness. You know the tree by its fruit. The witness of these good people suffering unjust persecution moves a man of a completely different faith to breakdown in tears publicly.
I don't know enough about James Foley's life to know if a formal canonization process should be started. Most of us don't know. But we do know that he bravely suffered death for who he was and who he refused to become. He witnessed his beliefs even unto death.
So, I'm okay with using the word "martyr" to describe him. In all likelihood, based on what we know so far, he was. Just to reinforce, I'm not canonizing him. But I am saying that he gave us a tremendous witness in his death and in the events that led to it. As I said above, if his death makes us more aware of the religious persecution that is happening every day, around the globe, then he's even more of a witness.
We don't want to cheapen the meaning of the word "martyr." But this is real. It's happening everywhere. It's making extraordinary witnesses out of ordinary people. We should not cheapen their witness by ignoring the reality of their sacrifice, their martyrdom.
May we honor their memory and may they all rest in peace.
Amen.