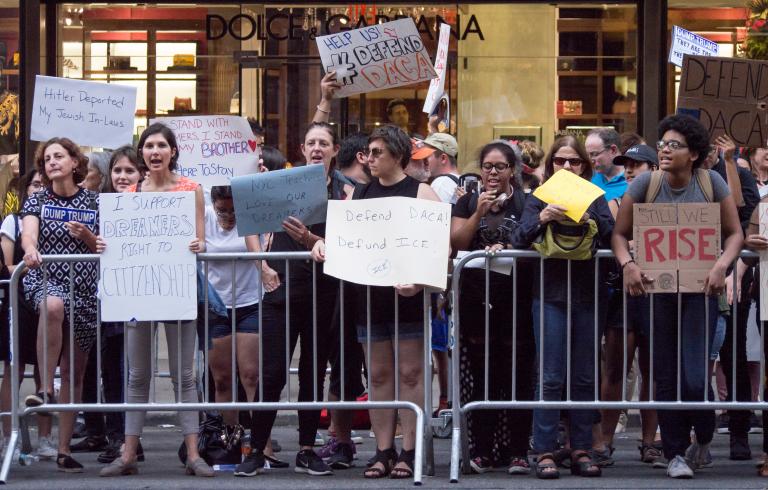 By Jan Zauzmer
Our Twitter accounts are not verified, our Facebook posts do not go viral, and our names are not prominent—but we everyday resisters oppose the president and his accomplices however we can.
For the vast and varied champions of the liberal opposition who sometimes feel powerless to make a difference, this pre-midterm pep talk is for you. While some may feel energized in the lead-up to Tuesday, November 6, 2018, it is equally possible to feel dejected in the face of so much ugliness.
In the pre-Trumpian world, politics was one among many topics of interest for people fortunate enough not to feel overly pressed by pressing issues. Though we did roll up our sleeves in support of many matters of importance, politics did not own our days or our inboxes or our blood pressure, nor did it drive our to-do lists or our social media posts or our friendships. The very real problems in the world distressed us and spurred us to action, but not in an all-consuming, relentless, 24/7 kind of way.
Initially, our collective jaw dropped at the sucker punches to decency and democracy we witnessed during the president's candidacy. The gulf between normal and new-normal widened seemingly hourly. As the newly elected administration wreaked havoc high and low, we moved through the stages of civic grief, steadily transforming from moderately attuned citizens into politically astute ones.
We read up on issues with a vengeance, paraded with painted signs and pink hats, kept an eagle eye on social media, circulated petitions and followed political campaigns with a passion like never before. We wore our politics on our sleeves — and our feet and our legs as we laced up our Nikes and threw on our Levi's. We glued ourselves to the travesty that masqueraded as the Senate Judiciary Committee hearings for a Supreme Court associate justice whom we could not associate with justice, followed by a confirmation vote that dishonored the honorific "The Honorable." Most recently, we attended vigils for the victims of the anti-Semitic shooting in Pittsburgh, a tragedy piled high atop a dizzying array of other assaults on our minds, bodies and hearts.
Of course, some liberals took the opposite approach. In an understandable response to the torrent of upsetting headlines, they disconnected—turning off the radio on their way to work, shutting down the dinner table discussions. Stuffed to the brim with disturbing news, they just had no appetite for more.
We resisters are beyond engaged, we are enraged
Not so for us. Caught in this brave new world that has such people in the White House, we set foot on the beach amidst the stormy tempest. With every tool at our disposal—from apps and alerts to meetings and marches—we reacted to all manner of soul-crushing crises. As if we needed any more motivation, headline-grabbers like separating immigrant children from their parents, vilifying the free press, denigrating women, emboldening racists, dismantling protections for LGBTQ individuals, neglecting the environment, kowtowing to the gun lobby, rolling back healthcare protections, enriching the rich at the expense of the needy, and embarrassing the United States on the world stage all commanded our concern and received our condemnation.
Like the whale in the Jonah tale, the horrifying politics of late has swallowed so many of us whole, replacing ordinary awareness with extraordinary attentiveness. In truth, we are beyond engaged—we are enraged.
But in a high-tech world full of noise, it is the rare voice of protest that breaks through, a singular speaker who has access to a bullhorn. To be sure, the goal is not to be noticed individually—but neither is the purpose to be passed over. The point is to express thoughtful outrage. And for that expression to matter, it is helpful to be heard.
Rest assured, resisters, you are heard! Though any one person's civic participation may fly under the radar, together you are visible. Collectively, you are not camouflaged by the cacophony of competing cries; as a whole, you are not a faint whisper in the wind.
Multiply one low-profile profile times a hundred and the unforceful emerge as a force to be reckoned with. On an exponential basis—raised to the power of you—the math is easy to do: One phone call becomes a phone bank for a worthy candidate, one signature becomes a petition for a meaningful cause, one handmade blanket becomes a collection for refugees, one tomato becomes a community garden, one step becomes the Women's March and the March for Science and the March for Our Lives, one concrete action becomes a movement.
To the countless protesters who persist in the shadows, keep going. To the volunteers who contribute noble comments to the conversation, don't stop. To the friends who share newsworthy articles, stick with it. To the masses who march without megaphones, push forward. Most especially, to the millions who vote and help others vote in the midterms, thanks a million.
Everyday resisters, resist every day!
Jan Zauzmer is a past president of a large Union of Reform Judaism congregation and an opinion writer whose pieces have been published by Kveller, JTA, Religious Action Center of Reform Judaism, Lilith, Patheos, ReformJudaism.org, and Moment Magazine. She can be reached at janzauzmer@gmail.com and @JanZauzmer.
Image source: Rhododendrites
We want to know what you think about the upcoming midterm elections. Vote in our poll below!