From early November u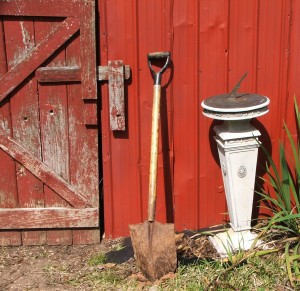 ntil Thanksgiving, I'm usually bundled up puttering in unheated garages or pole barns at the retreat center where I volunteer as a gardener.
After planting the last of the bulbs I set aside time to get things in order for winter. The final step of shutting down the garden is the cleaning and storing of tools.
Start with a bucket of water with a little biodegradable soap; this will be poured onto the compost heap when you're done. Wire brush any chunks of soil not previously hosed off of spades, forks, trowels or planters. Place them in the soapy water to soften remaining dirt, brush clean, rinse and set aside to dry.
Now, while your freshly washed tools are drying, disconnect the hoses from the spigots and stretch them out straight to drain. Put all the watering wands and shut off valves along with sprinklers in a crate. Put a package of rubber gaskets in the crate too, you'll probably need them next spring.
I prefer to sharpen my tools before they are put away. Pruning saws are sent out to be edged. Wearing leather gardening gloves, use a small sharpening stone on nippers, knives, or shears. A flat rat-tail file for sharpening works perfectly for spades, hoes, and forks; brace larger tools against a work bench, or while sitting down, between your knees. Drawn file at a 45 degree angle across the edge. Once sharpened, clean off any remaining rust with steel wool (not the soap filled pads).
My grandfather kept in his garage a metal pail three-quarter full of sand that was mixed with a small amount of motor oil. He would then shove the working end of garden tools (hand held, long handled and pruning saws) into the sand, moving them about, and then hang them for storage. The sand rubbed off any light rust and coated the tools for protection. You will want to open cutting tools before inserting them into the sand. An oily cotton jersey glove or rag wiped over the metal surface of the tools will also work. Be very careful with saws and other cutting tools…remember you just sharpened them!
Many of my tools have wooden handles. I clean them off with medium grit sand paper. Wipe them down with linseed oil or paint a portion of the handle with outdoor oil based paint. Bright, contrasting paint helps with locating tools dropped among the posies or discerning yours from the neighbor's!
The final step is to lubricate the hinges of your tools. I'm usually very generous with the oil this time of year, applying it to the hinge and opening and closing the tool several times working it in.
Store garden tools in a dry location, or if you only have a few, shove them into the pail of oily-sand.
I'm inclined to keep pruning tools in a crate for easy access to do late winter pruning. And that oily jersey glove? It's in an open zippy bag in the same crate. When I'm done pruning, I dry them off and then wipe them down with the oily material.
Coil the drained hoses, connect the ends of the hose to each other to keep debris and bugs out, and tie together in three places with garden twine. Lay hoses flat or hang on a double peg system to prevent kinking.
It takes a little time, but come spring you'll be able to jump right into another season of gardening.