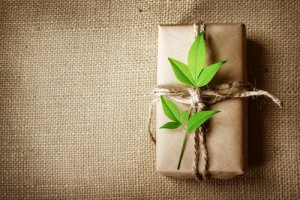 By mid-January we have settled into our usual routines. The Christmas season has ended, the nativity is packed away until the next First Sunday of Advent, most of the pine needles are vacuumed out of the carpet, and the presents have been incorporated in our daily lives.
The gifts I received this year were remarkably sweet, and addressed the needs of my soul more so than the clothing or feeding of my body. Well, about those bags of gourmet coffee—they're good for the soul, aren't they?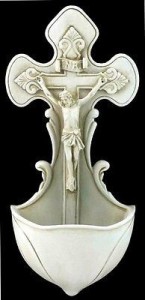 My friend in Indiana gave me a holy water font for the oratory. It is perfectly matched to my taste; clean lines, unadorned, and functional. When I touched the font for the first time I was surprised to find that its white glaze felt like soft leather. The basin is appropriately sized to hold a sufficient amount of water and roomy enough for easy dipping of fingers.
The woman who lives downstairs, and a friend for over quarter of a century, knew I was taking painting lessons—I've recently discovered that painting carries me away in much the same way as prayer. She is also aware of my spinal condition and the challenges of bending over a canvas.
The dear woman gave me a lovely wooden collapsible table-top easel that has a drawer for paints and brushes, and can be used outdoors—when I'm painterly enough for en plein air. Being able to now sit upright, practice sessions last longer.
I was delighted by unexpected gifts arriving in the mail from writing friends—DVD's of the Catholicism series, and the leather-bound Manual of Spiritual Warfare. Both items were direct answers to long surrendered prayers.
We all receive gifts we will probably never use—though we would never be so crass as to let on to the giver! Those are the presents that are re-gifted, passed along, or donated to charity.
One such gift had come from "Annie", who lives at a group home for women. She had gone with her case worker to the Goodwill store and searched through the racks and boxes of recycled cards. Annie selected cards she thought would be the best gift to me, put them into an old candy-cane bag and tied the top with several strands of colorful yarn. She had given from her need—for she has very little money—and offered everything she could in her limited way.
Annie gave me three cards: one for a granddaughter's fifth birthday (I am single and childless), one wishing well after a surgery (which never occurred), and a Catholic sympathy card with prayers on three panels. Sentiments of good will all—for family, health, and my soul.
It was her thoughtfulness of yellowed, dog-eared cards that struck me as the greatest gift this past Christmas season. Her gift revealed love in a way I can only hope to attain.
(Image by Melpomene, courtesy shutterstock.com.)