We often take mini retreats into our gardens for a moment of quiet in which to pray. When I'm in the garden for times of prayer I like to have sacramentals available— rosary, incense, journal, or other items. Creating a box to keep them at hand is an easy and fun project. You can decorate the box with short quotes, favorite images, stencils with a classic design, or have the kids place their handprints on the sides.
So here's how to make a prayer box for your spiritual garden—at home or in a public space like your parish.
Supplies:

White metal mail box, and eventually a post or bracket to hang it on

Outdoor paint suitable for metal in desired colors (I used Rust-oleum Painters' Touch Ultra Cover Latex)

Fine grit sandpaper

Windex, cloth, and clean water

Images, stencils, pencil (eraser!)

Artist round tip brush and plastic 10 well palette tray

Paper towels and water to use while painting, and a drop cloth if you're worried about a mess.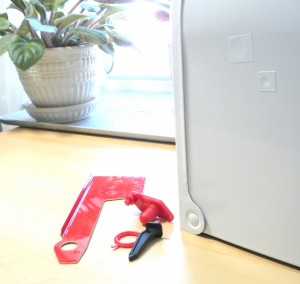 Remove flag from side of mail box.
Lightly sand surface to get a better tooth for paint to adhere.
Clean surface, rinse and let dry.
Tape over holes with outdoor tape. I had leftover mail box lettering and cut four small squares from the material, two for inside and two for outside.
Draw an image on door and/or body. Use a stencil, trace an image, or go freehand.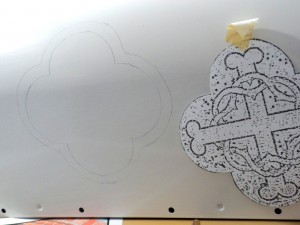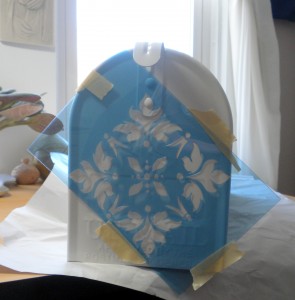 Dribble small amounts of paint into palette wells leaving one or two empty wells in-between for mixing colors. The paint I used dried rather fast, so work quickly—or do as I had, painting different areas such as all of the door, then medallion and flowers, then vines and leaves and cross using only a couple of colors each time.
When possible, paint from bottom up. Left to right if you're right handed, opposite if you're a leftie.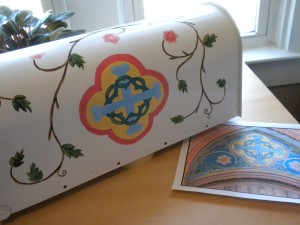 .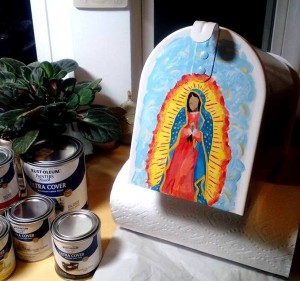 .
.
.
.
.
.
Allow to dry for a day then mount to a bracket or post in your garden.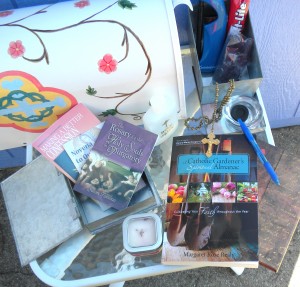 Collect the item you want to place inside, storing smaller objects in containers. The items could include:
Incense, charcoal

Candle

Lighter

Journal and pen

Rosary

Holy water

Devotional books

Bible or spiritual book

Insect repellent—which I spray on the chair/bench and area around where I'll be sitting. Sometimes I spray a small amount on my hands to rub on my hair if bugs are really bad.
And there you have it!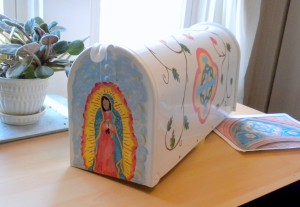 (All images by Margaret Rose Realy, Obl. OSB. All rights reserved.)