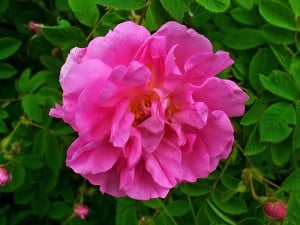 Marian gardens are the most popular Catholic garden for homes. A garden dedicated to Our Lady of Guadalupe would include the Damask rose.
Most of us know well the miracles associated with St. Juan Diego from Our Lady of Guadalupe, of her image imbedded on his tilma and the dark pink roses left growing on Tepeyac Hill for St. Juan after his vision. The Holy Virgin sent him back to those who doubted with unquestionable proof that she had indeed made the request for a shrine to be built on that hillside: The roses that Juan carried, besides it being winter and the wrong time of year for them to be flowering, were not from that region at all, but from the bishop's home town of Castille, Spain. That rose was the Castilian Rose or Damask Rose, Rosa damascena.
The Damask rose is known for its fine fragrance and their flowers are harvested for commercial use in oils and perfumes, and for cooking. The crusader Robert de Brie is often given credit for bringing this rose from Persia—the name refers to Damascus, Syria, a major city in the region—to Europe in the mid thirteenth century. Another story says the Romans brought the rose to England.
In an article by Jerry Haynes, History of Roses: Damask Rose,
For centuries, the Damascus rose (Rosa damascena) has been considered a symbol of beauty and love. The fragrance of the rose has been captured and preserved in the form of rose water by an ancient method that can be traced back to biblical times in the Middle East, and later to the Indian subcontinent. An Iranian doctor, Avicenna, is credited with the discovery of the process for extracting rose water from rose petals in the early 11th century. Damascus roses were introduced into England during the reign of Henry VIII and were frequently displayed and scattered at weddings and festivals.
Depending on what USDA Zone you live in, the modern cultivars of this rose would make an excellent addition to a larger garden dedicated to Our lady of Guadalupe (for those in colder climates, consider hardier doubled dark pink roses with high petal counts and strong fragrance).
Rosa x damascena cultivars are hardy in USDA Zones 6-9 and are known for their size; 4-7' tall, a sprawling large shrub rose.  Like most roses, they require a slightly acidic soil with good drainage, and full sun. In warmer Zones afternoon shade will help keep the blooms from fading. In areas with high humidity, be sure to allow for air movement to prevent fungal diseases. Watering is moderate, giving them a good deep drink once or twice a week depending on summer temperatures. Pruning is minimal and usually only to remove injured or diseased wood. Trying to train it to fit in to a small space is useless, being a shrub rose and all, so go with right-plant-right-place when adding it to your landscape.
On their web site, Heirloom Roses offer several cultivars.
Image By H. Zell (Own work),  via Wikimedia Commons.