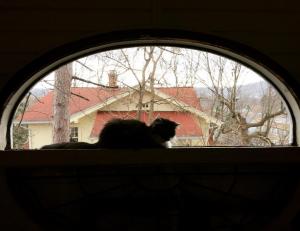 I've slept rather late, and so rather than surfing the internet, I'm going to just take all the words at my disposal this morning to belabor my thoughts and feelings about all the various cats hanging around in our house, and maybe the dogs too, who knows what may come bashing onto the keyboard.
We have three cats, right now–one, at least by accident, two on purpose–and two dogs. Most everyone who reads this blog knows the saga of one of the older cats.
This is Bander. He almost never consents to be photographed.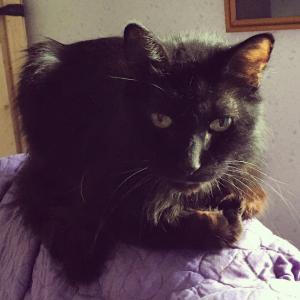 He spooked now more than ten years ago, when we, during the most frigid week of all icy Januarys, began packing up house and church as the result of losing the lawsuit perpetrated against us by the Episcopal Church. He hid inside the walls of the house when no one was looking. The whole church had been coming in and out, trying to get us and 7 years of junk out of there as quickly as possible. One person took away all my laundry and did it for about a month. Another person busted through the attic packing up all the stuff we'd just thrown up there because we didn't know what to do with it. Same with the basement, where I'd been storing piles of what can best be referred to as "garbage." My china cupboard, my kitchen, the cupboards full of children's pictures I didn't know what to do with—all of it was packed away in about three days and hauled out.
The cat, not so much. We had three cats at that point—my cat, Tetley, Elphine's cat, Frances, pictured here: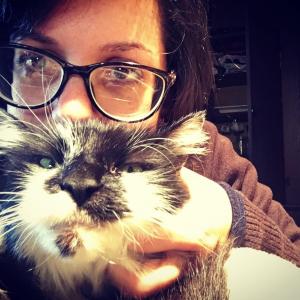 and my mother's cat, Bander. Oh, and Matt's dog, Maggie. Maggie and Tetley both since died (I'm with Alexander McCall Smith on this, I don't like the word, "passed" especially if you think it is over a rainbow bridge) but Bander and Frances carried on, and I eventually convinced Matt that I needed a dog, Ashurbanipal (Ash for short):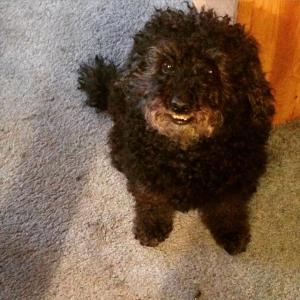 And then the children lobbied for this ridiculous creature, Posie (he's a boy so):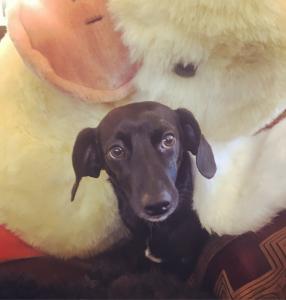 Anyway, back to Bander the spooked cat, we moved out of the house without him. We didn't have to hand over the keys right away, so every day for about three weeks I went to the house and scoured the neighborhood and called the animal shelters and prayed and prayed. The night before we had to give over the key, I slept in the old school room in a sub-zero sleeping bag with the back door open, praying that he would come back. It never occurred to me that he was in the wall all the time, probably looking at me through an electrical outlet.
TEC didn't come right in and deal with the house right away, having to deal with an empty church and the bank, but eventually they did, and had the distinct impressing that something was there. We had told them about the cat, so they walked around quietly, and, finding "evidence" of cat, and hearing noises in the walls, they called us. By now it was February and still bitterly cold, but we flung all our children in the car (some without bothering to find their shoes, so great was our hurry) and rushed over, and after much effort, everyone together, of dismantling part of the basement wall, I was able to climb partway in and drag him out.
Believe me, he makes a great sermon illustration about how none of us really want to be saved, but God, in His mercy, climbs into the dark and drags us out, partially against our will. Bander never psychologically recovered from this experience. He lives in the girls' bedrooms and eats too much, as I would if I had been nearly starving for almost 6 weeks, even if it was more than ten years ago. He is very friendly, you can go pet him, but he will not come out, nor interact with any of the other animals.
Frances, on the other hand, has been throwing her weight around for well nigh fifteen years now, smacking the dogs when they deserve it, and generally elevating the tone of our lives.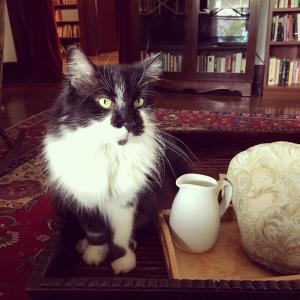 But, she is 15, and since October has had a very tetchy tummy, meaning that we are cleaning up foul, odorous, horrific mistakes, mostly in the bathroom, which is as far as she makes it when she isn't feeling well. So, over the weekend, after much sorrow, we decided it was time to send her on to Jesus. But then, on Monday, she seriously perked up and all of the horrors of her tummy appeared to be completely gone. Indeed, in four days she has gained about 2 pounds. So, for now, we are watching her and petting her, and as she seems fairly comfortable, we are thanking God that she still is in the land of the living.
Which brings us to this creature, what I had called The Christmas Cat: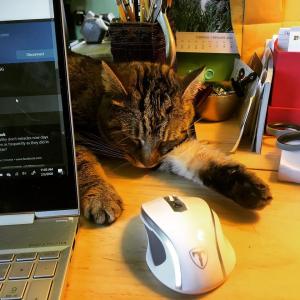 She looked in our window the week before Christmas, tapped with her paw, and when I went out, lept into my arms. Inquiry in all corners did not produce an owner. She was quite thin. We are wondering if she went rather far afield. Who knows, someone may turn up. In the meantime, we think we have settled on a name, Kathryn, because, in personality, she most resembles my dear Great Auntie Kay, who died several years ago. They don't look anything alike, of course, but there is a certain gleam in the eye that feels, if we're going with the Rainbow Bridge heresy, like the reincarnation of the soul of my aunt. She loves to play, which has never happened to us before in the way of cats, is very personable, a touch stubborn and demanding, and overall deeply curious about what everybody is doing. Here is what happens when Matt tries to plank on the mat he has provided for his own purposes, but which obviously he was mistaken as regards its actual use.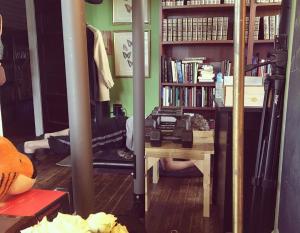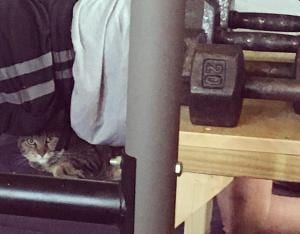 And this is how she likes best to nap in the evening, conserving strength for the midnight rampage.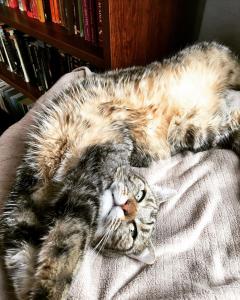 So, there you are. Tomorrow I'm sure I'll be back with regularly scheduled programming.