Sam Rocha recently wrote a short piece for us on Canadian Prime Minister Justin Trudeau's demand for an apology from Pope Francis on the injustice committed through the residential school program.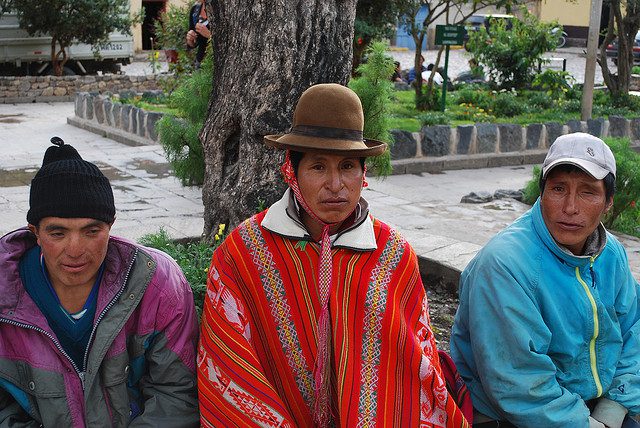 Sam explains that Trudeau isn't off for asking for an apology – but he shouldn't do so while thinking the Church hasn't repented before.
Saying you're sorry once, may not be enough. The hurt caused by the Church, acting actively or passively, is immense.
What the Church did – that is, usually, individuals and large groups within it – is unspeakable. Coming from the American experience, we've seen great injustices on Turtle Island.
I am reminded of a letter delivered to Pope John Paul II during his visit to Peru in 1985.
After almost five centuries of the arrival of european domination, these local indigenous leaders insisted they were done giving the Church a chance.
Injustices committed damaged everything in the indigenous life – down to its core.
In this 1985 letter by Maximos Flors, of the Kollosuyo (Aymara) Indian movement, Emmo Valeriano, of the (Aymara) Indian Party, and Ramiro Reynaga, of the (Khsewa) Tupac Katari Indian movement, we learn just how damaging these atrocities were:
We, the Indians of the Andes and America, have decided to take the opportunity of this visit by John Paul II to return him his Bible. In five centuries, it has brought us neither love, nor peace, nor justice. Please take your Bible back, and return it to our oppressors. It is they, rather than we, who have need of its moral precepts. Since the arrival of Christopher Columbus, a culture, a language, a religion of Europe have been imposed on America by force.
This portion of the letter is quoted by Leonardo Boff in Good News to the Poor: A New Evangelization.
Remember that Spanish Christendom did little to elevate or protect the dignity of the indigenous people of this continent – now called "America".
With this in mind, the repeated apologies are understandable – Justin Trudeau isn't crazy for thinking the injustice merits an apology. However, we should be mindful that the Church has apologized, and continues to apologize, because the Church wants everyone who has suffered by its action or omission to know that it is sorry.
Apologizing, reconciliation – making things right – is part of our new evangelization.
Let's close with the words of Leonardo Boff:
The new evangelization, whose first beginnings date from the 1960s, and which address first of all the dominated peoples, has not yet struck sufficiently deep root. It has not yet managed to convince the victims it prioritizes…

Unfortunately, our debt of justice to the natives, the blacks, and the outcast remains unpaid even today. Our churches must pay it.
Reminders of the Church's regret are always appreciated – may we never commit these injustices again!
Until next time,
If you have found the content on Keith Michael Estrada's "Proper Nomenclature" to be useful, kindly consider supporting the cause with a donation.
Use the button below to donate through PayPal:

Thank you!