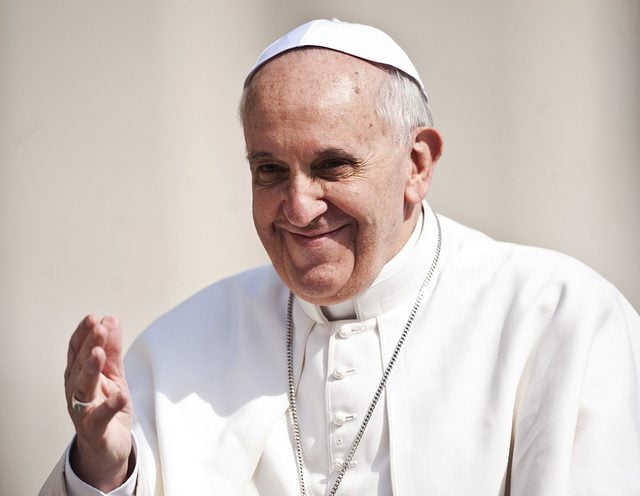 Our Holy Father, Francis, cares about the Paris Climate Change Summit.
Some people are asking about whether the Paris Climate Change Summit is worthy of our time and consideration. Others, sometimes in the same breath, are wondering if its a big conspiracy geared towards establishing a new, powerful global economic and political system – where treaties are signed, hands are shaked, and funds are transferred in order to protect vulnerable nations (as if this last option were a bad thing).
It's an interesting position for conservatives (especially) to be in, one where all of a sudden we are suspicious of global efforts towards goal x – in this case, avoiding what some would call the suicide of the human race – when, on the other hand, many conservatives have pushed for or materially cooperated in the establishment of an economic and political hegemony backed by the most lethal (contra-life) military. I suppose that's a side note, but, everything is connected.
Sure, one can be suspicious or choose to not be interested in the lengthy, and often ineffective, global processes – but Catholics are called to be interested and, in different degrees, involved.
This global political intervention is scary to some people, as if this "idea" of climate change is not only not-a-threat, but also, not-proven; indeed, some people – around the internets – are worried that concern for the planet is nothing more than a ploy towards actualizing this supposedly-not-already-here-but-we-reject-it-if-it-is-not-Christendom-or-conservatism one global political and economic system.
(I'm not sure why we're more suspicious of global meetings than we are of the structures we've idolized to produce consumer goods – very likely the driving force behind any human contributions to global destruction. As one authority writes, "Let it suffice to say that the great capitalism that continues to dominate the world has been wholly inefficient at promoting family life, protecting human and organic life, and supporting economic participation at all levels." Plainly put: capitalism kills.)
So, you could take the liberal approach and say you do your part to care for creation, aren't a rampant consumer, waster, or destroyer of the planet, all as a way out of dealing with the Paris Summit and how you're probably part of the reason it's taking place, or you could care. The question is: Who cares?
Pope Francis cares.
He cares so much, he dedicated a vast amount of time to preparing and publishing his encyclical Laudato si': On Care for Our Common Home, to make sure it could be studied and provide guidance as leaders meet in Paris to discuss climate change and the fate of life on earth.
Reuters reports:
The pope was asked if the U.N. climate summit in Paris would mark a turnaround in the fight against global warming.

"I am not sure, but I can say to you 'now or never'," he said. "Every year the problems are getting worse. We are at the limits. If I may use a strong word I would say that we are at the limits of suicide."

He spoke of retreating glaciers in Greenland and low-lying countries at risk from rising sea levels.

"I am sure that the (Paris delegates) have goodwill to do something. I hope it turns out this way and I am praying that it will," he said.
Don't be an isolationist; instead, take a cue from our Catholic Holy Father and his predecessors: Care.
Until next time,
If you have found the content on Keith Michael Estrada's "Proper Nomenclature" to be useful, kindly consider supporting the cause with a donation.
Use the button below to donate through PayPal:

Thank you!