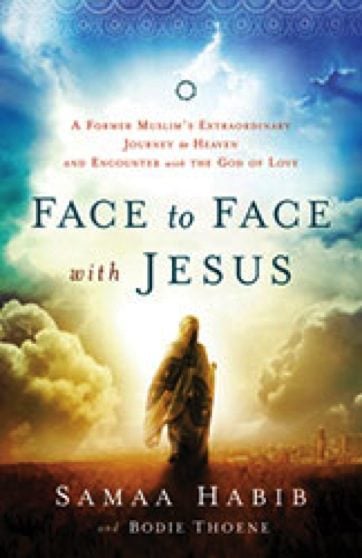 To join the discussion about Face to Face with Jesus, A Former Muslim's Extraordinary Journey to Heaven and Encounter with the God of Love, or to buy a copy, go here. 
Face to Face with Jesus is a book for our time. Not because it deals with a Muslim girl's conversion to Christ, but because it teaches every Christian about our own call to faithfulness.
Samaa Habib met Jesus in a powerful conversion experience. I know from my own conversion experience that, once you meet the living Christ in this way, you will never be the same again.
Every convert who has walked a path outside Christ will be forced to choose Jesus again and again as the tentacles that link them to their other life are amputated one by one. My advice to all Christians is to read this book and do it like Samaa did it. Don't do it in the step-by-step, trying-to-cling-to-the-people-of-your-other-life way that I did it.
Samaa never stopped loving her Muslim family, even when they beat her for her faith in Christ and tried to force her to renounce Him. Instead, she prayed and fasted for them. It took much tragedy and suffering, but in the end, her entire family came to know Jesus.
Instead of hiding her light under a bushel as most of us do, she spoke of her faith to everyone she met. This resulted in threats to her life, shunning and persecution. But she never stopped speaking of Jesus.
As I said, this is a book for our time. We are under attack here in America. This attack is relentless and it is gathering steam. Samaa's witness is for us, as well as all the rest of the world.
I don't have the native courage that Samaa has. From what I've seen, most other American Christians do not have it, either. But in Christ, we can do all things.
The keys to Samaa's walk with faith are worship, prayer, study and fasting. She went to worship services, even when it meant risking her life. She prayed deeply and often. She studied Scripture. And she employed fasting as a means of intercession for the conversion of others.
Her route to God was through a charismatic congregation. She was introduced to Jesus by charismatic missionaries who had left the safety and comfort of America to go to her country and evangelize for Him.
Even when jihadists bombed their church and many people were wounded and killed, they did not stop. Samaa was terribly injured in this bomb attack. She experienced a near-death experience in which she made a choice to give up her martyr's crown and come back to bring more people, her family in particular, to Christ.
Reading this book inspired me to pray more. The ever-growing evil in our society saddens me deeply. I need to talk about this sadness with Jesus.
I recommend Face to Face to Jesus to all Christians. It is an inspirational story that teaches courage in Christ for our times.