Catholic Patheosi Sisters in Christ. Lisa Hendey, Kathy Schiffer, Margaret Rose Realy. I'm the one in front, sitting down.
Where do I start?
Last week was the best. I'm still a wee bit tired from it, still absorbing and processing it. Where do I begin to tell you about it? I guess I'll begin with the high point.
The high point wasn't spending time with my Catholic Patheosi sisters in Christ, although I can tell you that was a blessing all in itself. The high point wasn't meeting other Catholic writer/publishers/artists from all over the country, although again, that was an immersion in generous and loving like-mindedness that this outlier in the Oklahoma wilderness has never experienced before.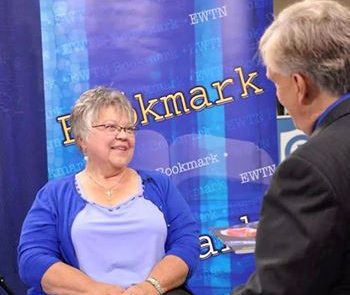 Margaret Rose Realy, being interviewed by EWTN.
The high point, the Everest, of this entire week was the Thursday mass.
I almost didn't go.
It had been such a full day. I "pitched" a book to an editor, presented an hour-long presentation and participated in a panel discussion. Between lunch and the panel discussion, I went to my room to take off my blazer and sat down in a chair.
Just for a moment.
I woke up an hour and half later. I had to scoot to get to the panel discussion in time and my neck was in permanent crick from sleeping pretzel-sytle in that chair.
Soooo, after the panel, I thought I'd just go up to my room, put on something comfy, order up room service and relax. No reason, I decided, to go to mass.
I got as far as the elevators, and in that hotel, the distance between our conference rooms and the elevators is a good hoof. I punched the up button. Then, while I was waiting for the door to open, I turned around and hoofed it back to the conference rooms.
I didn't make a decision to go to mass. I just automatic-piloted my way down the hall, over the connector tunnel and then clomped down the stairs.
Father Frank Pavone, who was the celebrant, was already processing in when I slid into the last vacant seat on the back row between a couple of nuns and an elderly gentleman. I sometimes have mass troubles, and I braced myself, as tired as I was, for major mass troubles that day.
My mass troubles have been hitting me hard the past few months. What happens is that I sit in mass and am overwhelmed by a pounding sense that I am too unworthy to be in that room. It can, and sometimes does, reduce me to tears. It can and sometimes does, drive me away from mass. There are days when I get up and leave, mid-mass.
I've learned that if I can hang on and force myself to go forward and accept the Host, Jesus will heal me. When my mass trouble comes on me hard, I am like the woman with the hemorrhage who touched the hem of His garment and was healed, over and over, mass after mass, week after week.
But getting there, making it through mass without running away and then progressing up to the front of that line, many times making a humiliating spectacle of myself because tears keep leaking out of my eyes and dripping down my cheeks, can be an act of endurance, and, since I've learned that the Host heals, trust.
I'm like that woman from long ago, thinking 
If I can just touch the hem of His garment; if I can only touch Him; I will be healed. 
I slipped into that room, sat on that chair at the very back, and, while I didn't think it in words, the thought was there: I hope I can get through this. There was safety in that door, a few steps away. I could leave if I had to, before anyone was the wiser.
But, after months of this on-going battle with the devil every time I go to mass, this time was different. There were no hants rising from the swamps of memory, no feeling of unworthiness. It was just me; solid and whole, standing in a roomful of other Jesus lovers, participating in the sweet miracle of heaven touching earth in bread and wine.
I have memories of such a solid sense of self as I felt then, but I have to go far back to find them.
Father Pavone brought a gift to us at that mass. He had what I think he called a "First class relic" of St John Paul II. I'm not up on my relic rules, but I think that's what he said. It was a small spot of blood on a postage-stamp sized bit of cloth. The blood came from St John Paul's body the day he died.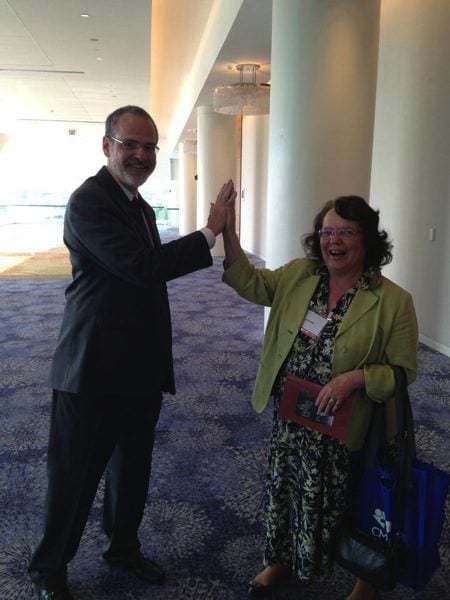 Kathy Schiffer and Gary Zimak.
Father Pavone took the time — and it was quite a bit of time — to stand at the front of the room and give each of us an opportunity to venerate this relic. It worked out that I was the last person in the last line, the last one to do so.
I brought home a lot of work to do. I now have two books to write instead of just one, and I have a real hope that they both will be published. I'm not excited. I am … sure.
I am sure that this is what I'm supposed to be doing, and that Our Lord has both me and this work in the palm of His hand. This morning, while I was praying my Rosary, I felt St John Paul, sort of coaching me about what I should do. It neither surprises nor awes me that he came home with me from that mass.
That is the order of things. The spiritual world is as real and reliable as our physical world we inhabit in this life. An ice cube will melt in a glass of warm water. Always. And God comes to those who love Him. Always.
Sometimes, in fact, quite often, He sends His helpers by. My fellow Catholic Patheosi Kathy Schiffer, Margaret Rose Realy and Lisa Hendey are just such helpers. So, is St John Paul II.
I'm telling you this intensely personal story for one reason. I want the people who are reading this post — and I trust that the Lord will send the right ones by — to know that, to paraphrase St Paul, nothing, not the things we do, not the things done to us, can separate us from the love of God which is in Christ Jesus.
God uses us in the broken places. All we have to do is let Him.