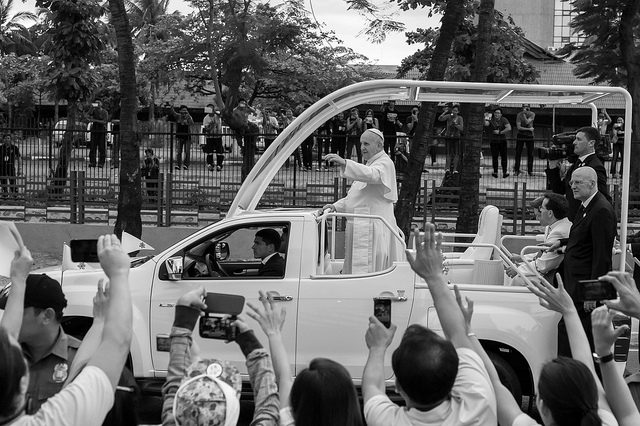 Pope Francis' Flying Zucchetto
Hurricane Haiyan: When I saw from Rome that catastrophe, I decided I have to be hear. Jesus is Lord, and He never lets us down. Many of you have asked the Lord, Why Lord, and Christ responds from His heart, on the cross. Let us look to Christ. He is the Lord. He understands us, he understands us because he underwent all the trials that we — you — have experienced.
Pope to Filipino Authorities: Protect the Inalienable Right to Life, Beginning with the Unborn and Extending to the Frail and Elderly
The Church in the Philippines is called to acknowledge and combat the causes of the deeply rooted inequality and injustice which mar the face of Filipino society, plainly contradicting the teaching of Christ … see things in a new light and and thus respond with honestly and integrity to the challenge of proclaiming the radicalism of the Gospel in a society which has grown comfortable with social exclusion, polarization and scandalous inequality … Be present to young people who may be confused and despondent … be present to those who living in a society burdened by poverty and corruption are tempted to give up.
As a family we have to be very clear, prepared and strong to these attempts to the ideological colonization that wants to destroy the family.
Pope Francis breaks away from official itinerary to meet with street kids of Manila.
Pope Francis in Sri Lanka
Pope Francis' Best Quotes in Sri Lanka