Today is the 6th Annual Tulsa March for Life, sponsored by 35 groups including Lutherans for Life, The Uprising, Anglicans for Life, Victory Christian, Tulsa Bible Church, Claremore Nazarene, Holy Apostles Orthodox, Tulsa University Newman Center, Saint Gregory's University, the Diocese of Tulsa, St Michael Episcopal, Oral Roberts University, Catholic Charities, Go Life Mobile, Mend Pregnancy Center and many others.
Be there, or be square.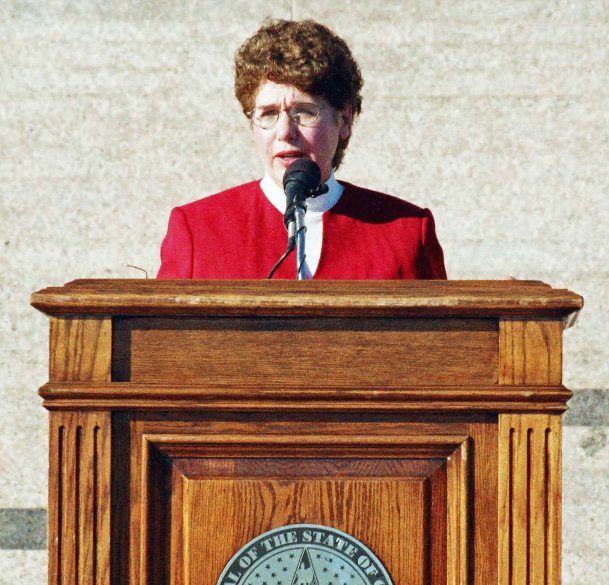 Charles Dickens would have loved Rebecca Hamilton. "A Tale of Two Citizens…
"It was the worst of times, it was the best of times." Thus might a pro-life observer describe Rebecca's two separate stints in the Oklahoma House of Representatives.
For you see, when Representative Hamilton served for six years in the legislature in the 1980's. Before that, she had been the state director for the National Abortion Rights Action League (NARAL). She used her considerable legislative skills on both the House floor and the House Public Health Committee, which she chaired, to make it as difficult as possible to pass pro-life bills. Indeed, she was a master of parliamentary sleight-of-hand in the pursuit of her "pro-choice" objectives.
Representative Hamilton and I were on opposite sides of the abortion issue continually during those six years during the '80's, and when she retired from the House at that time, she said to me: "Tony, you go your way and I'll go my way, because abortion is an issue about which we are NEVER going to agree."
But then, some years later, an amazing thing happened — something almost akin to what happened to Saul on the road to Damascus. Rebecca Hamilton wasn't on horseback at the time, as was the future Saint Paul. She was driving her car one day, and she was reflecting on a confluence of recent events, and suddenly the right to life issue was brought into a very sharp, and very different, focus for her; she had become a mother, and she had experienced a religious conversion. And suddenly she knew, as she sat behind the wheel that day, that she had been — through all those earlier years — on the wrong side of the abortion issue…
It took great courage to do what she did next, but Rebecca decided to return to public life — to come back to the Oklahoma House of Representatives after a 15 year absence, this time as a PRO-LIFE legislator, a pro-life Democrat, in a party that has been less than friendly toward pro-life candidates. Rebecca persevered, and was elected six straight times, until term limits brought her service to an end this past November.
She had come back, as she so simply and humbly says, "To make amends." To try to right the wrongs, repair the damage, make up for whatever bad example she might have given through her earlier support for abortion…
And she succeeded in rectifying those earlier mistakes to a degree she could never have imagined. On the strength of her own determination, she won pro-life legislative battles against all odds. Through her powers of persuasion, she transformed her party's pro-abortion caucus into a largely pro-life caucus. By virtue of her unyielding commitment to making the pro-life issue a transcendent, bipartisan concern in the House, she has helped mightily to make the right to life the Oklahoma legislature's #1 priority.
Rebecca Hamilton has been a tremendous force for good, and she will be acutely missed at the state Capitol. In part because of her background and history, she has been a uniquely effective and powerful voice for the unborn child. And through her principled, selfless, and courageous service, she has earned the deepest respect of those all across the political spectrum for her tireless and unwavering commitment to the sanctity of human life.
Tony Lauinger,
Vice President,
National Right to Life
State Chairman,
Oklahomans For Life