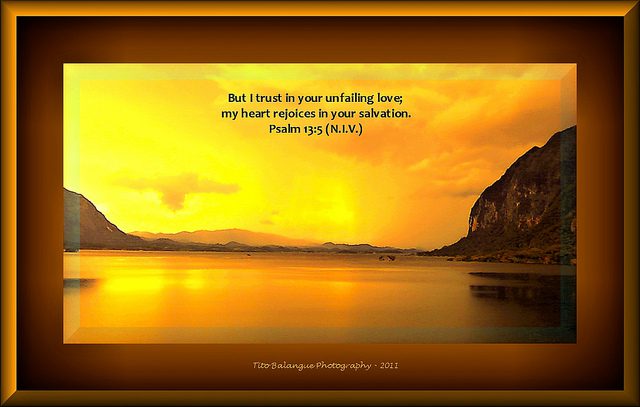 In keeping with my longstanding tradition of kicking over hornet's nests, I'm going to ask a question.
What is the most perfect prayer?
Over on the Facebook page of a friend of mine, a commenter who identified himself as a priest said that the Holy Mass is the "most perfect prayer." A Deacon of the Church responded that yes, it was.
I've been rolling that one around in my mind ever since I read it.
Mass is, from beginning to end, one long prayer. It is also the sacrifice of Calvary, brought into our daily lives. More than that, it brings that Sacrifice and the Lord Himself into a reliable, supremely accessible form under the guise of bread and wine.
As we would say in Oklahoma, that's pretty stout.
But is it the most perfect prayer? Is there such a thing as a perfect prayer?
I can't answer that, even though I raised the question myself. Instead, I will tell you what I know and why I ask the question in the first place.
I know that my personal conversion experience was a sort of eucharist. Let me describe it and explain what I mean.
I was driving in my car, on my way to make a speech. I was deeply troubled and sore at heart because of a sin I had committed against another person. Almost from nowhere, I said aloud, "Forgive me."
The moment I said that, I felt the long years of sinfulness lift off me. It as an actual physical sensation. I also felt this Other, a Being, respond with such joy and love that words fail to describe it. In the same moment, I felt this joy and love, filling me up.
What was all this? I didn't know at the time. It was a while into the future before I figured out that the Being I met that day and Who has never left me since was the Holy Spirit.
I never, until I read that exchange on Facebook, considered the possibility that in that moment, I became a form of Eucharist. What I mean by that is that I now believe without doubt that what I experienced was what Protestants call "the baptism of the Holy Spirit," and what I've seen described in other places as the "indwelling of the Holy Spirit."
In fact, even though I didn't know it when it happened to me, Scripture has quite a lot to say about the Holy Spirit, dwelling within us. That Scripture is not describing a theological concept. It is talking about an absolute reality of Christian life. I suppose that what I am also describing might be what Catholics call "a state of grace."
All I know is that God reached down into that car and loved me back to life in an instant, He came to live within me and me with Him and He has walked with me since that moment. All this happened because of a two-word prayer that I didn't know was a prayer: "Forgive me."
I read the comment that the mass is the most perfect prayer, and I agreed with it. But I also know that God can and does create individual Eucharists in people's hearts every day. I was not unusual or even especially blessed by what happened to me. The reason is that God answers sincere prayers. And He can make a Eucharist, a communion, of any person, at any time.
I know of a young woman who was kidnapped off the street on her way to school. She was put in a brothel and sold over and over as a victim of human trafficking. She lived in India. She had never heard the name of Jesus, knew nothing about Him.
One day, He came to her in the tiny room where she was held when she was not being sold. She saw a light, then a vision of a man. "I am Jesus," He told her. "I will take care of you." This young woman now attends a Christian university here in Oklahoma in preparation for returning to India to work among trafficked women.
Her prayer was no prayer at all, at least not as we normally understand it. Her prayer was the desperation and suffering of a young girl, sold into sex slavery. It was the wounded cry of one of His children, reaching up to heaven. Her prayer was not of her own initiative. Her prayer was His love, and it came from Him to her, not the other way around.
And that is the crux of it.
I did not deserve forgiveness. I did not deserve the love and joy that He gave to me.
The goodness was all His. The need and unworthiness was all mine.
The young girl, held prisoner in a brothel, did not even know His name; she did not call to Him because she did not know Him. He came to her. Because He loved her.
I have a friend who spent years trapped in the sins of prostitution, drug dealing, alcoholism and addiction. For a long time, she would visit one of our Catholic churches here in Oklahoma City. She didn't go there during mass. She sat at the back of the sanctuary alone, when it was empty. Her reason for being there was that Christ in the Eucharist was calling her to Him. She went there because He called her to Himself.
Her prayer was shame and a sense of unworthiness. It was isolation and alienation and aloneness. It was believing that the good people of the parish would never have her there, but knowing, because He called her, that she had to be there. With Him.
The perfect prayer is a mother, sitting up at night in a steamy bathroom with a croupy baby. The perfect prayer is a father, going to a job he hates and taking all manner of humiliation in order to support his family. It is the rape victim who chooses life for her baby and the cop who follows the evidence rather than just cooking up a case against the most likely.
The perfect prayer is to look at insurmountable problems and terrible insults, to stare in the face of your deepest terror and say, "Lord Jesus, I trust You."
The mass is a gift, but it is not a gift we give to Him. It, along with the Church, is a gift that He gives to us. The Eucharist is a gift, a covenant, a bond and a promise that He is, as St Paul said, able to keep that which we have entrusted to Him against that day.
The Eucharist heals, gives life, and assures us that at the other end of this earthly passage, in the words of Julian of Norwich, all will be well, and all will be well, and all manner of things will be well.
The Eucharist comes from Him, to us. Not the other way around. In like manner the perfect prayer is always His prayer in us. The mass is prayer. A simple forgive me is prayer. Desperation and fear are prayers. Shame and sin sickness are prayers. Love, fidelity, courage are prayers.
Grace is a gift. Mercy is a gift. Salvation is a gift. The Eucharist is a gift. Life is a gift.
They are gifts to us from Him.
The only gift we have to give Him is our love. Everything else, including obedience, comes from that.
What is the most perfect prayer? I think it is to take the whole of our selves, including the pits and stains, welts and scars, lay them down in peace, and say with the confidence of a child talking to her Daddy, "Lord Jesus, I trust in you."