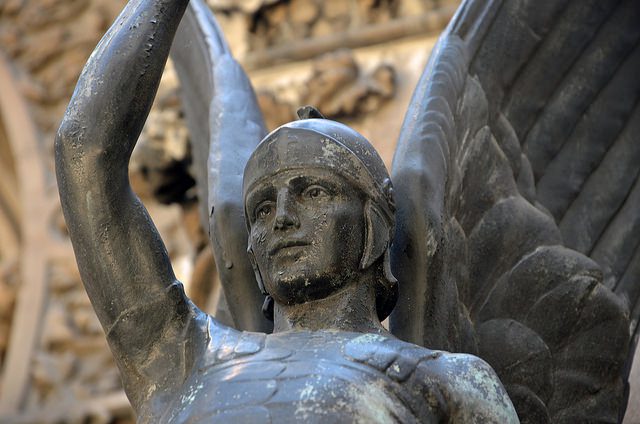 Then war broke out in heaven. Michael and his angels fought against the dragon, and the dragon and his angels fought back. But he was not strong enough, and they lost their place in heaven. The great dragon was hurled down—that ancient serpent called the devil, or Satan, who leads the whole world astray. He was hurled to the earth, and his angels with him. Rev 12: 17 – 18
A Novena is a nine-day prayer. The idea behind a nine-day prayer comes from the prayers of the Disciples, along with Our Lady, before Pentecost. It is also based on the Jesus' many admonitions in the Gospels to pray to God the Father for our needs without ceasing.
It sometimes sounds in the Scriptures as if Jesus is telling us to nag God. His parables about the man who will not stop asking his neighbor to get up and give him bread and the reluctant judge tell us frankly that God responds to our repeated requests.
Another example in Scripture is Abraham, interceding for Sodom and Gomorra. He repeatedly asked God to spare the city if a certain number of righteous people were found there. Each time, God granted Abraham's request, and each time Abraham asked again, this time with a lower number of righteous people. He finally received the promise that God would spare the cities if only 10 righteous people were found in them.
Sadly, there were not even that many.
However, the principle of praying repeatedly is well established in scripture.
The position that St Michael the Archangel occupies in the heavenly host is also well established. He is God's warrior, the defender against Satan. I quoted one scripture about Michael above. But there are others scattered throughout scripture. Daniel refers to him several times in ways that show quite clearly that St Michael is our defender against the devil, as well as heaven's.
Pope Leo XIII composed a powerful prayer to St Michael the Archangel that begins St Michael the Archangel, defend us in the day of battle after he was given a vision of the evils to come in the 20th Century.
It appears that these 20th Century evils have taken root in human society and are expanding and bearing much evil fruit after their kind in the 21st Century, as well. Among these are the increasing and widespread violent persecution of Christians. Our brothers and sisters in Christ suffer every indignity possible in this life, including martyrdom.
This is happening today, right now.
In this Lenten season, let's commit ourselves to a Nine Day Novena for our brothers and sisters in Christ who suffering and dying for His name. It seems the least we can do.
I chose the Novena to St Michael the Archangel because he is our protector against the devil. These attacks against Christians and Christianity are coming straight from Satan. As usually happens, he is not sending an army of demonic creatures to do his bidding. His army on this earth is almost always sin-sick human beings who are following the darkness rather than the light.
Most of these people don't know who they are following. It is not necessary to give knowing assent to follow Satan. All you have to do to follow him is do his work and speak for his desires in this world.
The prayer that Pope Leo XIII composed has always seemed like a kind of exorcism to me; an exorcism that we all can access by simply asking St Michael to do the exorcising for us.
The Novena I've chosen for us to pray is the Novena to St Michael. It is almost eerie in the way it fits the persecution Christians are facing today.
I will post it every morning, beginning today, for nine days. Please pray it with the rest of us faithfully.
I took the liberty of choosing an intention for all of us. I pray for the conversion of the world, that from pole to pole, dateline to dateline, all with call out Jesus' name.
Here is the Novena to St Michael.
Glorious Saint Michael,
guardian and defender
of the Church of Jesus Christ,
come to the assistance of His followers,
against whom the powers of hell are unchained.



    


Guard with special care our Holy Father,
the Pope, and our bishops, priests,
all our religious and lay people,
and especially the children.

Saint Michael,
watch over us during life,
defend us against the assaults of the demon,
and assist us especially at the hour of death.
Help us achieve the happiness
of beholding God face to face
for all eternity.

Amen.

Saint Michael,
intercede for me with God
in all my necessities,
especially



for the conversion of the world, 

that from pole to pole, 

dateline to dateline, 

all will call out Jesus' name. 



Obtain for me a favourable outcome
in the matter I recommend to you.
Mighty prince of the heavenly host,
and victor over rebellious spirits,
remember me for I am weak and sinful
and so prone to pride and ambition.
Be for me, I pray,
my powerful aid in temptation and difficulty,
and above all do not forsake me
in my last struggle with the powers of evil.

Amen.