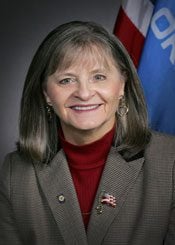 Representative Sally Kern got her bill banning bans on gay conversion therapy out of committee.
HB 1598 passed without debate on a unanimous vote after a committee substitute was accepted, also on a unanimous vote.
It now goes to the full House, where it may or may not come to a vote. For an explanation of the process, go here.
If it does come to a vote, we may get to see some entertaining debate.
From The Daily Oklahoman:
House Bill 1598, which now goes to the full House, says the state will not prohibit or restrict counseling intended to rid people of attraction to those of their own gender. It also seeks to protect parents who want such counseling for their children.
A bill that seeks to protect the practice of gay conversion counseling passed out of an Oklahoma House committee Tuesday.
Nothing prevents this type of counseling now, but Rep. Sally Kern, R-Oklahoma City, said her bill is needed because the practice is under attack legislatively in other states.

"All across the nation, bills are being introduced to ban parents from having the right to take their children for counseling if they are struggling with same-sex attractions," Kern said. "As you know, we do lots of bills that are pre-emptive, so this is pre-emptive to make sure that parental rights are upheld."

Gay rights advocates and others vehemently opposed the bill, saying conversion therapy has been harmful to children, including leading to anxiety, depression, shame, guilt and, potentially, drug abuse and suicide.