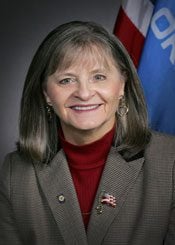 Representative Sally Kern's HB 1599 passed out of the Oklahoma House of Representatives' Judiciary Committee this week. The vote was 5 to 3 in favor of putting the bill on the House floor.
If it becomes law, HB 1599 would have four effects. I am going to put my comments in bold to help you follow the thinking on this.
1. HB 1599 would prohibit the expenditure of state monies for "any activity that includes the licensing or support of same-sex marriage."

The Oklahoma legislature clearly has the power to determine how state monies will be apportioned. There is a real possibility that this part of the bill would survive court challenge. 

2. HB 1599 requires that any Oklahoma state, county or city employee who takes actions that would "officially recognize, grant or enforce a same-sex marriage license" would lose "their salary, pension, or any other benefit" that is funded by Oklahoma tax monies.

This is broader than just state-appropriated monies. It takes in any funding for salaries, pensions or other benefits that come from local taxes, as well. The legislature has the power to determine how Oklahoma tax monies may be spent. Whether or not it has such sweeping powers to determine how local tax monies may be spent is questionable.

The legislature also has the power to allocate salaries, pensions and benefits to state employees. The question that will almost certainly arise if this bill becomes law is whether or not this particular use of that power is discriminatory. 

3. HB 1599 requires that state courts dismiss challenges to the "any portion of the Preservation of Sovereignty and Marriage Act (HB 1599) with an award of costs and attorney fees to defendants."

In my opinion, this is a violation of the separation of powers on which our government is built. I also think it is a violation of the First Amendment right to petition the government. 

4. HB 1599 mandates that judges who violate "this act" will be removed from office.

5. This is not an effect of HB 1599, but it is important to note that it has what is called a "severability clause." A severability clause means that if the courts strike down one portion of the bill, the rest of the statute will still stand.
Now that HB 1599 is out of committee, it is, in legislative parlance, "on the floor," referring to the "floor" of the full House of Representatives. The next step in its passage will be to get it on the House agenda where it can be brought to a vote of the full House.
Whether or not Representative Kern will succeed in getting this bill onto the floor agenda and then getting it called up for a vote is a matter of internal House politics. This has a great deal to do with the push and pull of what is happening with other legislation and how the various members align themselves on this issue. It is an internal, out-of-sight bit of legislating.
If HB 1599 comes to a vote of the full House, and if it passes the full House, it will then go to the Senate, where the Senate author will have to put it through the same process, all over again. If it passes the full Senate without amendments (unlikely) it will go to the governor, who has the power to veto it.
If it is amended in the Senate, it must come back to the House and, unless Representative Kern accepts the Senate amendments, would go through a conference process. If she accepts Senate amendments, HB 1599 would be voted on again by the full House. If the bill goes to conference, it has a lot of hurdles to get over before it can be voted on again. A lot of bills die in the conference process.
If it gets through the conference process, it must then be put back on the agendas of both houses, and be brought to a floor vote in both houses. If it survives all that, it still has to go to the governor, who can veto it.
Each of these steps is more complex than it sounds here. Each step has more variables than I can discuss in a blog post.
It is no small accomplishment that Representative Kern succeeded in getting this bill out of committee. She is a determined, hard-working legislator who does not attack or harm her colleagues.
If HB 1599 does not come to a vote of the full House before the end of the legislative day on March 12, it can not be voted on this year. That does not mean the bill is dead. It can be brought up for a vote next year.
It will be interesting to see how this plays out in the next few weeks.