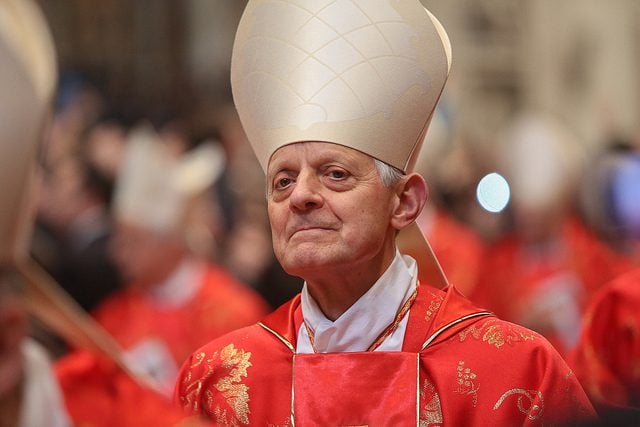 Cardinal Wuerl delivered a powerful homily on the present-day Christian martyrs yesterday.
"We can go out those doors with ashes on our forehead … however … there are parts of the world where that will just as well be a death certificate," he said.

"There are parts of the world where Christians are regularly martyred. Where their churches are destroyed, their homes burned, their children sold into slavery.

"The first thing we owe our brothers and sisters is a sense of solidarity with them. If they suffer, we should feel that suffering. And we owe them our prayerful support, but we also owe them our voice.

"It has gone on for the longest time, because of the silence. The silence of the world community, the silence of all of us in the face of this extraordinary violence against the Gospel of Jesus Christ"
These are powerful words, but I think we should go a lot further than they ask. We should — at the least — speak often of Christian martyrdom and Christian persecution. We should agitate to allow Christians who are being persecuted to seek asylum in this country. We should gather together in prayer services for persecuted Christians around the world.
We should write about these martyrs. Pray for them. Pray to them. Help the survivors. And get serious with our elected officials who don't get the message. We are Americans. Our government is us. That means we have immense power to change things, if we will work together, and if we can keep our focus and not lose interest because of the next sensation.
We must not forget our brothers and sisters in Christ who are suffering and dying for His Name. Remembering is the least, the smallest thing, that we can do.
From Catholic News Agency:
Washington D.C., Feb 18, 2015 / 06:09 pm (CNA/EWTN News).- Catholics owe solidarity, prayer and a voice against injustice to their fellow Christians being martyred and persecuted around the world, Cardinal Donald Wuerl of Washington, D.C., stressed on Ash Wednesday.

"(W)e can go out those doors with ashes on our forehead" as a public display of faith, the cardinal said. However, "(t)here are parts of the world where that will just as well be a death certificate."

Cardinal Wuerl spoke at the end of his Ash Wednesday Mass at the Cathedral of St. Matthew the Apostle in Washington, D.C.

Ash Wednesday marks the beginning of the penitential season of Lent which culminates in the Easter Triduum – Holy Thursday, Good Friday, and Holy Saturday – followed by the celebration of Easter Sunday and the ensuing Easter Season.

On Ash Wednesday, Mass attendees may receive ashes on their forehead in the sign of a cross, to signify penance and the remembrance of human morality.

Focusing on the reality of Christian persecution in many parts of the world. Cardinal Wuerl pointed to Nigeria, India, Syria, Iraq and the Holy Land as particular areas of concern.