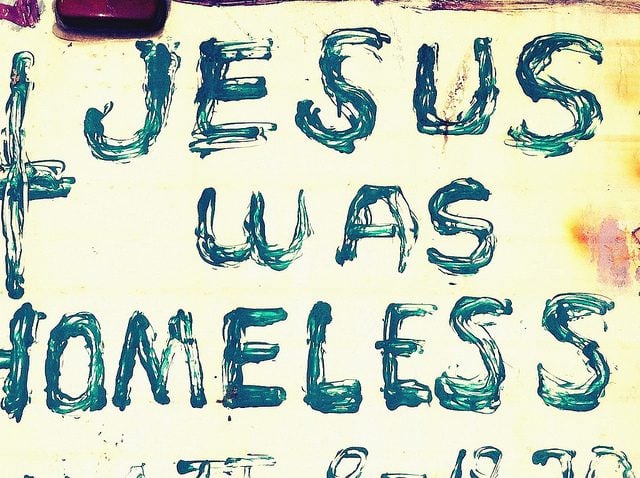 Foxes have dens, birds of the air have nests, but the Son of Man has no place to lay His head. Jesus Christ
Sprinklergate, the story that the Cathedral of St Mary in San Francisco was using its sprinkler system to clear the cathedral steps of homeless people, is a symptom of a big-time problem.
That problem is that American cities are haunted by over a half million ghosts. These ghosts sleep on park benches, sidewalks and in shelters. They panhandle and go through dumpsters, searching for clothing, food, money, drugs.
These are not silent ghosts. They accost us as we walk to work, they wave signs begging for cash as we drive down the road. They take over the public libraries and, as St Mary's has discovered, can block entrances to buildings with their vacant-eyed vigils.
The ghosts haunting American cities are the homeless. They are not in any way homogenous. Some of them are temporary down and outs. Others are mentally ill. Many are drug addicts and alcoholics. Others are panhandlers posing as homeless while they ply their trade.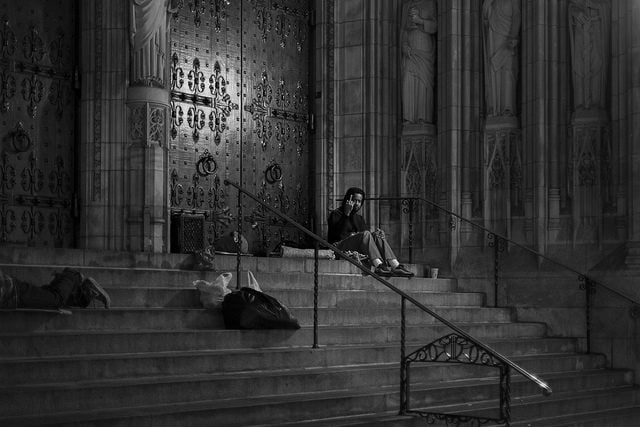 Homelessness is the opposite of the American dream. It is the opposite of what, until a few decades ago, was the American self-image. I am old enough to remember a time when America did not have homeless people lying on its park benches, snoring in its libraries and blocking the entrances to its churches.
I was born in that era between the Great Depression with its hobos and today with our ubiquitous and ignored homeless.
America's basic response to homelessness among so many of its citizens, including many children, has been to ignore them. The United States Department of Housing and Urban Development issues a glossy report on the homeless every year. This report differentiates between types of homelessness. There are the homeless who stay with relatives, and are not, to my way of thinking, truly homeless at all.
Then there are those who sleep in shelters or whatnot. Finally, we get to the homeless that inspire us to such conflicting feelings of pity, indifference and annoyance, those who do not have shelter at all.
In the meantime, while we ignore the homeless, and refuse to even take a look at the government policies and social changes that made them homeless, we shift the burden for dealing with them onto whoever the homeless themselves chose to impose themselves upon.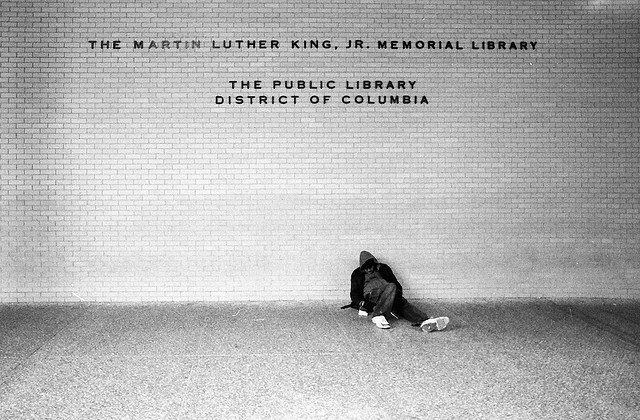 Businesses, public buildings of all sorts, churches and other facilities can easily find themselves unable to perform their intended functions because of the homeless sleeping on the sidewalks at their entrance or sitting inside their buildings. Mothers won't bring the kiddos to the library if the homeless take it over. Guests won't check into hotels whose entrances are blocked or whose lobbies are filled with homeless people. Churches can't hold services if the worshippers stay away rather than step over the homeless, sitting on the steps.
We ignore the homeless because we feel helpless to do anything decisive for them. We ignore them because we don't truly understand what policies and practices of political and social corruption made them homeless in the first place. We ignore the homeless because they overwhelm us and baffle us and scare us.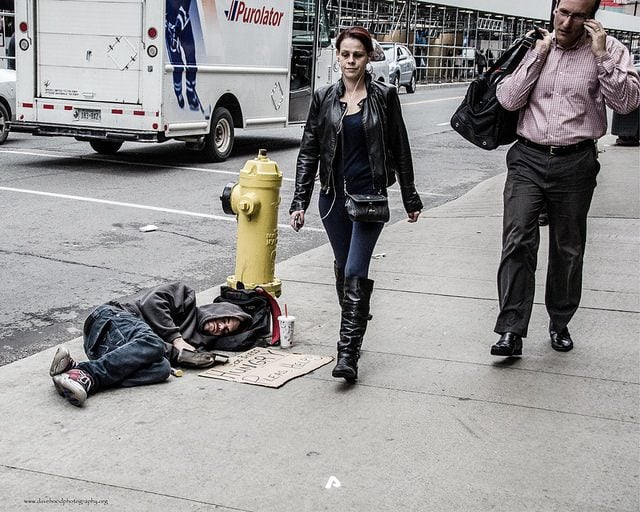 Worse, we ignore them because if we acknowledged that many of our political and social ideas on both sides of the political spectrum have created this problem and allowed it to grow, it would require us to re-evaluate many of our simplistic viewpoints. We ignore the homeless because not ignoring the homeless would require us to change.
So, we dump them.
We dump them on the businesses and operators of public buildings. We dump the problem on the administrators of these businesses, public buildings and churches. Then, when they take any action to dislodge the homeless from camping out on their property and blocking access and use by those for whom it was intended, we excoriate these administrators for their heartlessness.
This public venting of moral outrage has nothing to do with compassion. It is just us, being our hypocritical selves about a problem we will not do anything to solve. We will not take a homeless person home and house them in our spare bedroom. We will not let them sleep on our porch. We will not change our politics to fit the realities of real life.
We will ignore them and what brung them.
They are not people to us. They are ghosts of what once was people like us. Somebody birthed them, taught them to write those signs they hoist and how to read the hours of operation on the signs in front of public buildings.
They were once part of the larger society.
But now they are ghosts.
And we ignore them.
And we denounce those on whom we dump them for being overwhelmed by them.
And we will not change.