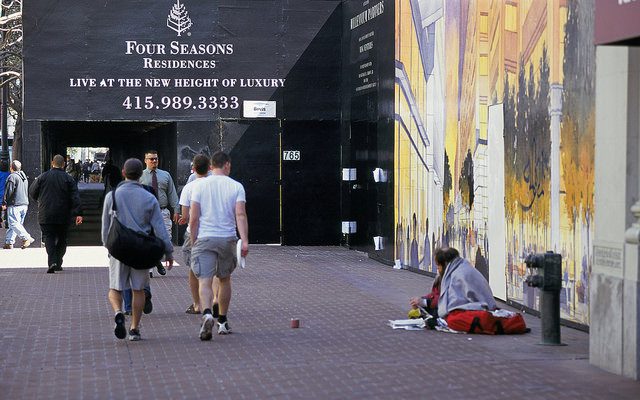 I've been sick as the proverbial dawg these past few days. I managed to put together a couple of posts, but then I fell back into bed and pulled the blankets over my head.
I'm not feeling all that great today, either, but I have roused myself from my coughing and hacking and moaning and complaining long enough to realize that there's another oddball "scandal" about the Catholic Church leap-frogging around the internet.
From what I gather, a cathedral in San Francisco (of all places) attempted to use a sprinkler system to encourage homeless people to vacate the steps leading into their building. Or some such.
Needless to say, the story has fueled the tanks of Catholic bashers. It's also brought out quite a few disappointed and sad comments from faithful Catholics, as well. The story seems to be all about whether or not the Catholic Church and the Archbishop of San Francisco should be keel-hauled and sentenced to extinction over Sprinklergate.
I haven't read too much about a couple of issues that I think are somewhat pertinent.
First, the Archbishop of San Francisco is engaged in a battle over the future of the Catholicism in that great city, i.e., whether or not the Church will be run by its own teachings or by secular authorities and the mob actions of "activists" who don't agree with those teachings. This particular argument is about homosexuals.
Second, digging up dirt on someone who opposes them is a standard tactic of the gay rights movement. Demands for civil and human rights for gay people are just. Homosexuals have been subjected to unjust discrimination and violence for a long time.
But that does not justify advancing this cause by denying the human rights of other people. Far too often, the gay rights movement has advanced its cause by the ignoble method of organized and manufactured character assassination of those who oppose it.
Using character assassination as a method of political bullying is an effective tactic. It harms, sometimes destroys, the ability of the person who is attacked to put their ideas forward in a credible manner. It also serves as a warning to anyone who might be inclined to join them that they, too, will be destroyed. In this case, it sends a signal to other bishops to duck and cover or be personally attacked as well.
I'm not going to take a position on Sprinklergate in this post, but I am going to raise a simple question: Is the whole scandal and the sudden media focus on this rather obscure action by the cathedral an example of attacking the Archbishop because he's standing for Catholic teaching?
I'm not saying that turning the sprinkler system on homeless people to get them to move off the church steps is a good thing. What I'm saying is that the reason it has been so widely reported may very well be politically motivated.
Archbishop Cordileone has been attacked, picketed and and smeared ever since he took office in San Francisco. These attacks are because he has taught actual Catholic teaching as regards gay marriage. This latest series of attacks are precisely and directly because he has been doing his best to create a Catholic Church in San Francisco (again, of all places) that is actually Catholic.
In a back-handed way, Sprinklergate is a compliment to Archbishop Cordileone. If this is the best his opponents could do, then he must be an honest man.
There are other issues about Sprinklergate which need to be discussed. But that really is the topic for another post.
My point here, dear Catholics, is don't be so quick to join in with public lynchings of our clergy when those public lynchings are so obviously linked to actions by that clergy to defend the teachings of the Church in a Catholic-bashing world.
Now, I'm going back to coughing and hacking, moaning and complaining. As soon as I feel up to it, I'll write another post talking about other overlooked issues in Sprinklergate.